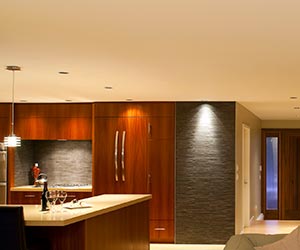 Designing your finished basement will depend on your budget and how you intend to use the space. For example, you'd design a home theater much differently from a wine cellar.
Depending on the size of your space, you may be able to divide the basement into zones. That way, each zone serves its own purpose. This is one of many ways you can transform your cold, dark basement into a space the whole family will enjoy!
Here are our 5 tips for designing your finished basement like a pro.
1. Make a Wish List
All basement remodeling plans start with the glimmer of an idea. For example, you may have pinned an on Pinterest. Likewise, you may have been craving a place to watch your favorite movies on the big screen.
No matter how you got to this point, there was some spark of an idea that captured your attention. Our job is to turn that spark of an idea into reality.
Start by writing down a list of everything you'd want in your basement if money were of no object. Unless you have an unlimited budget, keep in mind that you won't be able to have everything on your list. But this exercise will help you get a better idea of what you want the most in your new finished basement.
2. Create a Reasonable Budget
If you're like most people, you don't have an unlimited budget. For this reason, creating a budget is one of the most important steps in your process. Your budget will help you narrow down and rank the items on your wish list. That way, you'll be able to enjoy the of your dreams for a cost you can afford.
3. Plan for the Unexpected
We recommend setting aside 10% to 20% of your budget for surprise expenses. No matter how well planned your basement remodel is, it's always best to prepare for the unexpected. Doing this will give you peace of mind and help protect your finances.
Learn More: Mistakes to Avoid During Basement Remodeling →
4. Create Different Zones
Depending on the size of your basement, you may be able to create different zones with their own purposes. For example, you could have a laundry room and a home gym separated by different zones.
We can create zones by constructing walls or installing different types of basement flooring. For example, you may want laminate flooring for the laundry room and non-skid rubber tiles for the gym.
If you don't have a large basement, there's still plenty you can do to make your basement a more welcoming place. Check out our blog post to learn how to make your small basement feel bigger.
5. Hire a Basement Remodeling Contractor
No matter your design plans, you should hire a basement remodeling contractor. They'll make sure everything is waterproof, safe, and code compliant.
While it may be tempting to finish your basement on your own, this could end up costing you more money in the long run. This is because DIY mistakes can be costly, not to mention dangerous, depending on what you're trying to do.
You're much better off hiring a licensed and insured contractor.
Call Basement Trust to Get Started
As a basement remodeling contractor, we're proud to serve Greater Grand Rapids. To request an in-home consultation, please call Basement Trust at (616) 608-9716. You may also fill out our online contact form and someone from our team will reach out to you soon.
This blog post has been updated.