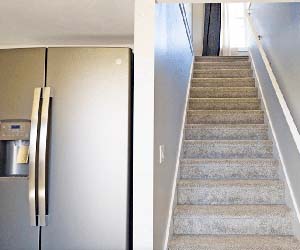 Have you prepared a budget for basement remodeling? Many homeowners don't know how to budget for the full cost of labor, materials, and potential delays.
In this blog post, we will give you tips for how to stay on budget. That way, you won't run out of money in the middle of your project.
Here's what you need to know.
Plan for the Long Term
Choose classic, timeless materials that will still look good several years from now. Keep in mind that this might mean choosing more expensive materials. For example,
has a higher upfront cost than carpeting. But it requires less maintenance over the long run to keep looking nice.
It's much better to pay more money upfront than to have upkeep expenses surprise you further down the road. Materials that are more expensive are also made to last.
A reputable contractor will be able to help you pick out quality materials that will look good in your home.
Learn More: How to Choose the Best Basement Flooring >>
Know What Your Estimate Includes
There's a lot that goes into turning your basement into usable living space. For example, you may have to pay for permits, inspections, plumbing, framing, drywall, electrical work, and more. All this will depend on your remodeling ideas and what kind of basement you have to work with.
Be sure to ask your basement remodeler what the estimate includes. That way, you're not left with unexpected expenses.
If a company offers to give you a quote over the phone, hang up. It's impossible for a contractor to give you an accurate estimate if they haven't seen your basement. You'll want to pick a contractor who puts careful thought into the total cost of basement remodeling.
Don't Change Your Plans Halfway
Make sure you know exactly what you want before finishing a basement. Every time you change your mind, you extend the timeline of the project and end up spending more money. But this doesn't mean that you shouldn't speak up if something doesn't follow your specifications.
The best way to stay on budget is to make sure you are happy with the remodeling plans before moving forward.
Read the Contract
Make sure you know what you're paying for before signing any contracts. Some contractors may want you to pay extra for services you assume the initial fee covered. For example, cleanup services after the remodel aren't always a guarantee.
Reading the contract will help you understand what the initial fee covers. This knowledge will also help you stay within your budget.
Choose Basement Remodels That Add Value
A basement remodel is an investment in your home. As such, you'll want to make sure that you are going to get the most for your money. For example, adding a basement bedroom or bathroom can increase the resale value of your home.
You'll also want to choose your materials with care. While you may like orange carpeting, the next homeowner may prefer hardwood floors.
Do you plan on staying in your home for years to come? If so, you'll want to think about whether you'll still like that color carpet 5 years from now.
Some homeowners change plans because they haven't thought about long term goals. But choosing a remodel that adds value to your home will help you save money in the long run. It'll also help you get a better return on investment.
Request a Free Estimate From Us
Basement Trust is a basement remodeling contractor in Grand Rapids, MI. To request a free estimate for your basement remodel, call (616) 608-9716. Also, feel free to check out our portfolio to see what we've done for other clients. We hope we hear from you soon!
This blog post has been updated.