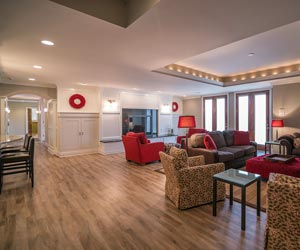 Our Grand Rapids basement contractors are able to work with any small or large basement contruction project, providing our clients with optimum results.
The remodeling contractors in Grand Rapids have everything it takes to help you turn any house into your dream home. From planning to construction to the finishing touches, we have it covered! Basement Trust even has an in-house designer for every project that creates the perfect living space just for you!
Learn more about some of our top basement services below:
---
Have you recently finished your basement and are looking for basement remodeling ideas? If so, you've come to the right place. Our Grand Rapids basement contractors offer a range of services so you can get the most out of your basement. We are able to add walls, plumbing, and electrical so your remodeled basement looks and functions like an extension of your current living space.
---
Most homeowners don't realize how much usable space lies just beneath their feet. Whether you plan on selling your home in the near future or staying put for years to come, finishing your basement is a great way to add value to your home. Our Grand Rapids basement contractors work with you so that you can transform your finished basement ideas into reality.
---
Take the movie-going experience home with you with a newly remodeled basement. Our Grand Rapids basement remodelers have experience turning basement home theater plans into reality. The most important features of a home theater are light and sound, which is why the basement is often the perfect location. Since basements are underground, it's easier for homeowners to control light and sound settings.
---
Our Grand Rapids wine cellar builders have experience creating functional, yet beautiful, storage spaces for wine collections. Our basement remodeling contractors understand the effects of temperature, humidity, and direct sunlight on wine collections, which is why we are a trusted basement remodeling company.
---
Basement design is more than just making sure a finished or remodeled basement looks "pretty." It's also about making sure you get the most out of your basement. Our Grand Rapids basement contractors will be able to work with you to come up with the perfect basement layout and design.
---