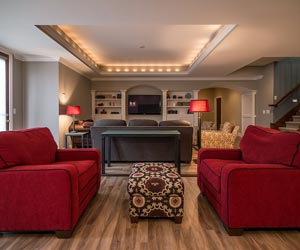 Most homeowners don't realize how much usable space lies just beneath their feet. Whether you plan on selling your home in the near future or staying put for years to come, finishing your basement is a great way to add value to your home.
Our Grand Rapids basement contractors work with you so that you can transform your finished basement ideas into reality. Finishing your basement can give you 69% return on investment, according to the National Association of Realtors.
Your basement doesn't have to consist of concrete floors, bare light bulbs, and exposed ductwork. Our Grand Rapids basement contractors are able to hang drywall and add flooring so your basement looks inviting. We also encase any exposed ductwork or pipes so that your basement looks like an extension of the living space upstairs.
As a Grand Rapids basement finishing company, we know that basements are more likely to experience issues with moisture than other areas of the home. This is why we only use building materials for your basement finishing project that are resistant against water and mold. That way, you'll be able to enjoy your finished basement for years to come.
The Grand Rapids basement finishing contractors at Basement Trust are dedicated to making sure you are completely satisfied with your finished basement. If you are interested in our basement finishing services, give us a call at (616) 608-9716.