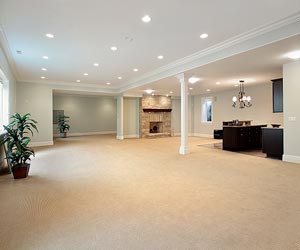 basement finishing contractor like Basement Trust for professional results.
involves more than just throwing a rug over a concrete floor. To be considered truly finished, a basement must have a permanent heating and cooling system, be easily accessible, and match the rest of your house. In other words, a finished basement should be an extension of your home's living space. That's why you'll need to hire a
In this blog post, we'll break down each element of a finished basement to help you better understand what needs to be done during remodeling.
Heating and Cooling System
Most unfinished basements are cool year-round. While this may be wonderful in the summer, remember that in Michigan snow is fair game from October to April.
In any given year, Michiganders may experience up to 7 months of snowy weather! For this reason, it's vitally important that your basement has heat. Otherwise, you and your family won't want to spend any time in the chilly basement.
A finished basement should be warm, cozy, and inviting during the winter months. But it should also be cool and comfortable in the summer (without a window A/C unit).
Your basement is not considered finished until it has a permanent heating and cooling unit with a continuous power source, such as electricity or natural gas.
Think of it this way. You wouldn't heat your entire home with a wall heater, would you? A finished basement deserves the same amount of care and consideration as your main living areas.
Matches the Rest of the House
Aren't sure if your basement is finished? An easy rule of thumb is to compare your basement to the rest of your home.
Do you have concrete floors in your living room? Do you have exposed pipes and beams in your kitchen? These questions can help you understand what standards your basement must meet to be considered "finished."
For this reason, a concrete floor is not considered to be "finished." Not even if you paint it or throw a rug over it. Instead think about the types of flooring you have on the ground and upper floors of your home such as hardwood, vinyl, tile, or carpet. These types of flooring are much softer and warmer underfoot than concrete. That's why we recommend them for your finished basement.
Related:How to Choose the Best Basement Flooring
Direct Access
Do you access your bathroom through a trapdoor in the ceiling? Do you enter the bedroom through an exterior door? While these questions may seem ridiculous, they help us better understand what it means for a space to be truly finished.
Your basement needs to feel like a natural extension of the rest of your house. A basement is not considered finished if you can only access the space by a trapdoor, ladder, or exterior door. A truly finished basement must have stairs leading up to the main living area so it's easily accessible. If you plan on having a , you should also have emergency egress windows.
Adds Value to Your Home
A finished basement will add value to your home, especially if you're adding another bedroom or bathroom. Anytime that you can add square footage to your home's living space, you'll be able to ask for more money when it's time to sell. That being said, finishing your basement will also add value to your life by giving you more space for work, play, and other facets of everyday life.
Conclusion
Sometimes you can tell that a basement is finished just by looking at it. But other times, it may not be so obvious. A finished basement has heat, air conditioning, and direct access to the rest of the home. It should also look like a natural continuation of the rest of your house's interior design. For help on that, be sure to check out our blog post that outlines our 5 tips for designing your finished basement like a pro.
If your basement lacks any of these features, it may not be considered "finished." But our basement remodeling contractors would be more than happy to help you get it there.
Request a Free In-Home Consultation From Basement Trust
Our basement finishing contractors in Grand Rapids, MI, have experience turning client ideas into reality. To request a free in-home consultation from Basement Trust, call (616) 608-9716. We hope we hear from you soon!
This blog post has been updated.