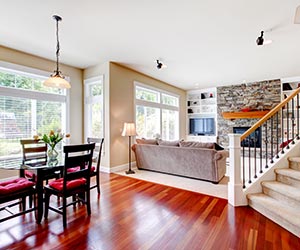 You have plenty of flooring options for your finished basement. But it's important that you think everything through before investing your hard-earned money. Our guide will help you narrow down your options so you can choose the best basement flooring for your home.
Here's how to get started.
Our Top 5 Favorites for Basement Flooring
Not all flooring is suited for the basement. For example, solid hardwood will expand and contract with fluctuations in temperature. It'll also absorb any moisture in the air, which can cause the boards to swell and buckle.
It's worth taking your time to do the proper research before you
.
Here are our top five favorites.
| Type of Basement Flooring | Waterproof? | Need a Smooth Subfloor? | Other Features |
| --- | --- | --- | --- |
| Carpet | No | No | Soft, comfortable, warm, vulnerable to moisture |
| Tile | Yes | Yes | Durable, increases your home's value, hard, cold |
| Sheet Vinyl | Yes | Yes | Warmer and softer than other hard surfaces |
| Luxury Vinyl Planks and Tiles | Yes | Yes | Looks and feels like natural hardwood, may need a water barrier |
| Engineered Hardwood | No | Yes | Looks luxurious, increases your home's value |
Consider Comfort
There's a big difference between converting your basement into a gym versus a media room. That's why we encourage you to think about how you'll use the remodeled space.
A room's function will also determine how you design for comfort. For example, you may want non-skid rubber tiles if you plan to use your finished basement as a weight lifting gym. But carpet flooring may be more appropriate if you want a family media room or spare bedroom.
You'll also want to think about the temperature of your basement. For example, you may want carpet flooring to add more warmth to your basement. Carpet flooring is not only warm for your feet, but it helps to insulate your basement. Other types of flooring, such as tile, can make a chilly basement feel colder.
Keep in mind that there are also other ways our contractors can make your basement feel warmer.
Think About Your Subfloor
Is your subfloor smooth or bumpy? The answer will determine what types of flooring are best for your basement. For example, we can't install vinyl plank flooring on a bumpy subfloor. But carpet flooring is more forgiving.
Divide Your Basement into Zones
Depending on the size of your space, you may want to divide your basement into zones. For example, it's not uncommon to dedicate one zone of the basement for the laundry room. Another zone could be for the home theater. The possibilities are endless!
One of the best ways to create different zones is to install different how to zone your basement to fit your needs and lifestyle.
. Ask our crew
Don't Forget About Basement Moisture
If moisture is a major problem in your basement, your first step is to make sure your basement stays dry. Otherwise, it won't matter what type of flooring you install. You'll be left to deal with water damage. For example, carpet can mold and mildew if it gets damp.
If you have little to no problems with moisture, you should be able to install carpet without any issues. Under these circumstances, our crew would install carpet cushioning with a moisture barrier. That way, you're protected from low levels of moisture damaging your carpet.
Call Basement Trust to Get Started
As a basement remodeling contractor, we're proud to serve Greater Grand Rapids. To request a free estimate from Basement Trust, please call (616) 608-9716. You may also fill out our online contact form and someone from our team will reach out to you soon.
This blog post has been updated.