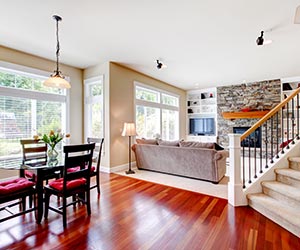 You have plenty of flooring options for your finished basement. But the right type of flooring will depend on your subfloor, the intended use of the room, and your personal preference. Our guide will help you narrow down your options so you can choose the best basement flooring for your home and lifestyle.
Here's how to choose the best basement flooring.
Consider Comfort
How do you intend to use the space? Because there's a big difference between converting your basement into a home gym versus a media room.
How you intend to use the space will also determine how you design for comfort. For example, you may want non-skid rubber tiles if you plan to use your finished basement as a weight lifting gym. But carpet flooring may be more appropriate if you plan on transforming your basement into a family media room.
Either way, comfort will ultimately be a determining factor when you're choosing the best basement flooring for your home.
You'll also want to think about the temperature of your basement. For example, you may want carpet flooring to add more warmth to your basement. Carpet flooring is not only warm for your feet, but it helps to insulate your basement. Keep in mind that there are also other ways our contractors can make your basement feel warmer.
Think About Your Subfloor
Is your subfloor smooth or bumpy? How you answer this question will determine what types of flooring are best for your basement. For example, engineered vinyl plank flooring can't be installed on a bumpy subfloor but carpet is more forgiving.
Divide Your Basement into Zones
Depending on the size of your basement, you may want to divide the space into separate zones. For example, it's not uncommon to dedicate one zone of the basement for the laundry room. Another zone could be for the home theater. The possibilities are endless!
One of the best ways to separate different zones visually is to install basement remodeling contractors how your basement could be zoned to fit your needs and lifestyle.
. Ask our
Request a Free Estimate
Our basement remodeling contractors in Grand Rapids, MI, would be more than happy to help you install the best flooring for your home. To request a free estimate with Basement Trust, call (616) 608-9716. We hope we hear from you soon!