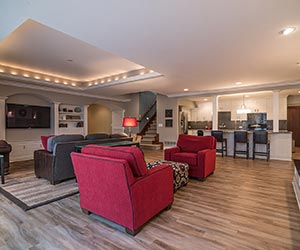 A media room is so much more than just a room with a TV. A media room is an environment designed to give you the best viewing experience. As such, there are several elements that go into designing the perfect media room for you and your family.
Here are 7 ways to turn your basement into a media room.
1. Declutter Your Basement
You probably don't want to hear this… But one of the first steps you'll need to take is decluttering your basement.
While organizing and cleaning take time, it'll be well worth your effort. That's because you don't want your clutter to overtake your new media room.
The good news is that our basement contractors can help you come up with storage solutions. We can design and build storage options to transform your basement into an inviting living space. That way, your clutter will be out of sight and out of mind.
Learn More: 3 Reasons Your Basement Needs Custom Cabinets >>
2. Finish Your Basement
A media room needs to be inviting. It should be a cozy place where you'd actually want to spend a couple of hours watching your favorite movie. Otherwise, what's the point? A TV in a cold, dark basement isn't all that appealing.
Our basement contractors would be more than happy to finish your basement. We'll accomplish this by installing a drop ceiling and proper lighting. That way, we'll be able to cover exposed pipes and vents that could spoil the aesthetic of your .
Concrete floors are cold and can look unattractive. That's why we often recommend installing new flooring to turn your basement into the
.
3. Plan Your Sound System
The last thing you want is to have visible wires in your basement media room. That's why it's important that you hire a basement remodeling contractor to create your home movie theater. For example, we can install recessed speakers into your walls or ceiling. This will give you the experience of "surround sound" so you can fully enjoy your new media room.
Choose a speaker system that complements your media room's decor. That way, it looks like an intentional design choice. A decoration, rather than a piece of technology that sticks out like a sore thumb.
4. Set Up a Universal Remote Control
There's nothing worse than having to get up from your comfortable spot on the couch to close your blinds or turn up the volume on the TV. That's why we recommend setting up a universal remote control. These remote controls give you the convenience of being able to control multiple aspects of your viewing experience, such as lighting. It also helps your viewing experience feel more luxurious!
5. Decide Where to Store Your Media
You'll need to create a "home" for all your technology to live. This includes your DVD player, Blu-ray player, and other essential pieces of technology. Hiding the clutter will help your room feel more streamlined and put the focus on the star of the room—your TV! Your TV should look like a piece of art on your wall, unencumbered by wires and other things that could spoil the viewing experience.
We recommend built-in cabinets or a nearby closet. We'll design your storage so electronics can receive the air circulation they need to stay cool and running.
6. Plan Your Seating Arrangement
Everyone in your family will want "the best seat in the house." Our job is to help make sure that every seat offers a good view of the TV so everyone can enjoy an optimal viewing experience. For example, a sectional couch that reclines forward can help you save space.
7. Enhance the Acoustics
Your TV will echo in a large room with hard surfaces. That's why you have to think about how sound waves will bounce off the materials in your room. For example, thick carpeting can help improve the quality of sound coming from your TV. An area rug can also help a room be less "echo-y."
Request a Free Estimate
Our basement remodeling contractors in Grand Rapids, MI, would be more than happy to help you transform your basement into the ultimate media room. To request your FREE estimate for your media room, call Basement Trust at (616) 608-9716. We hope to hear from you soon!