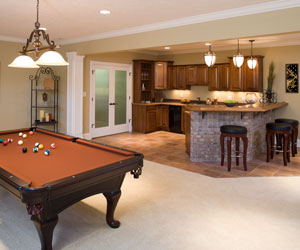 Don't overlook what's beneath your feet! The basement often spans the entire length of a house and is full of untapped potential.
Most people think of basements as cold, dark rooms. But they don't have to be! Turn this subterranean dwelling into a media room or wine cellar! The possibilities are limitless when you work with our basement remodeling contractors.
But first . . .
You're going to need cabinets.
1. Get Organized
Let's face it. It's a struggle to stay organized. Especially when you're trying to juggle work, family, and a constant stream of errands.
With how busy we are, it's not surprising that we often don't have time to organize. But installing custom cabinets in your basement can help you organize your belongings. That way, everything has its own place.
It's easier to stay organized once you have a "home" for all your stuff. Custom cabinets not only hide clutter but organize it so that you can always find what you need.
What's in your basement right now?
Christmas decorations? Exercise equipment? Mystery boxes from your last move marked "Miscellaneous"?
If so, you're not alone. Most of the people we meet tend to use their basements for storage. That is until they install custom cabinets and free up valuable floor space.
Storage solutions are essential for different zones in your basement. For example, it's a great idea to install custom cabinets for a laundry room. That way, you'll be able to store detergent, fabric softener, baskets, and other items out of sight. This will help your basement look less cluttered and more spacious.
Another example, would be to have custom storage in a basement media room to house items such as your DVDs and video games. You'll also want to hide any wires so you can create a movie-theater experience.
2. Increase Your Home's Resale Value
can help increase the value of your home. Buyers also appreciate it when you increase the usable space in your house.
The best homes take full advantage of every inch of space. The more storage, the better.
Our goal has always been to help homeowners choose the basement designs they love best. But if you plan to remodel your basement to add value to your home, we recommend sticking to a classic style.
Traditional styles remain popular for decades. Choosing a classic design also means that you'll still love your cabinets 10 years from now.
The type of basement you want will determine the type of storage you need. For example, cabinets are essential for bars and mini kitchens. That way, you'll have space to store all your kitchen appliances. Not to mention snacks!
Likewise, you could also create awesome shelving for all your books or movies. We'd be more than happy to recommend
.
3. Improve Your Quality of Life
There's more than one way to think about "value." A basement remodel helps increase the resale value of your home. But it can also improve your quality of life. This may sound dramatic. But it may surprise you how much your stress disappears once your clutter is out of sight.
Likewise, a clean finished basement will be more inviting for you and your family. This may mean spending more quality time with your loved ones and making memories. Your finished basement can also be a great place to hang out with friends.
The purpose of remodeling is to improve your basement's function and interior design. Basement cabinets help you achieve both of these objectives. As such, it makes sense to add cabinets when you're already remodeling the rest of your basement.
Request a Free In-Home Consultation With Basement Trust
As a basement remodeling contractor, we're proud to serve Greater Grand Rapids. At Basement Trust, all we do are basements!
To request a free in-home consultation, please call Basement Trust at (616) 608-9716. You may also fill out our online contact form and someone from our team will reach out to you soon.
This blog post has been updated.