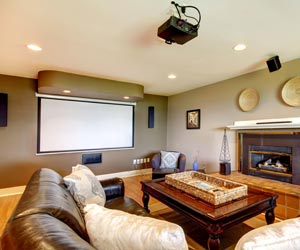 Take the movie-going experience to your home with a newly remodeled basement.
Our Grand Rapids basement remodelers have experience turning basement home theater plans into reality.
The most important features of a home theater are light and sound, which is why the basement is often the perfect location. Since basements are underground, it's easier for homeowners to control light and sound settings.
Our Grand Rapids basement contractors are also able to install soundproofing materials. For example, we are able to install soundproofing carpets and custom drywall so that your movie-watching experience isn't ruined by outside distractions. Our basement remodelers install all the custom wiring you need for showing movies and accessing the internet.
We are here to help you design a basement home theater that works for the space you have and your design preferences. For example, a traditional home theater will need plenty of space to install rows of seats. Media rooms, on the other hand, are more versatile than home theaters because they can be used for more than just viewing movies. For example, a homeowner may decide to place comfy couches and chairs around a big screen TV and leave space for other activities.
The Grand Rapids basement contractors at Basement Trust are dedicated to making sure you are able to enjoy your basement media room for years to come. If you are interested in our basement remodeling services, give us a call at (616) 608-9716.