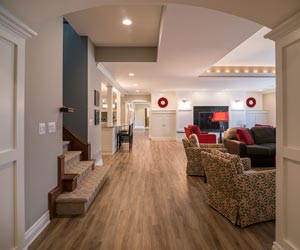 Have you recently finished your basement and are looking for basement remodeling ideas? If so, you've come to the right place. Our Grand Rapids basement contractors offer a range of services so you can get the most out of your basement.
We are able to add walls, plumbing, and electrical so your remodeled basement looks and functions like an extension of your current living space. If you want your remodel to add as much value as possible to your home, we recommend looking into adding a basement bathroom or bedroom.
Basement remodeling is less expensive than what it would cost to build an addition to your home and helps you make better use of the space you already have. For example, we usually recommend homeowners divide large basements into smaller rooms so that they'll have space for basement media rooms, exercise rooms, and more.
We recommend having your basement waterproofed before remodeling to prevent damage from mold and moisture. As a Grand Rapids basement remodeling company, we only use materials that are resistant to water and mold so you can enjoy your basement for years to come. When you hire a licensed basement remodeler, there's no reason why you should ever have to worry about moisture getting into your basement.
The Grand Rapids basement remodelers at Basement Trust work hard to make sure you are happy with your newly remodeled basement. If you are interested in our basement remodeling services, give us a call at (616) 608-9716.