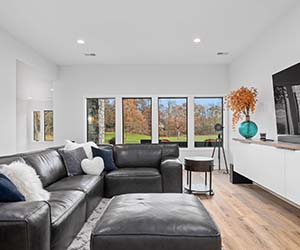 In general, most homeowners lack the experience and training of a basement remodeling contractor. For this reason, it's best that you hire a professional to ensure your basement is safe and up to code.
We also recommend basement in-law suite for an aging parent.
if you have a deadline to remodel your basement. For example, you may want to create a
No matter your circumstances, a contractor will be able to
on time.
Here are the main reasons why it pays to hire a basement remodeling contractor.
1. Safety
You'll need to ensure that any lumber that touches the floor is treated to prevent wood rot. Likewise, any walls you build in your basement need to be floating. That way, your concrete foundation can heave.
These are only a few of the many safety measures you'll need to follow while remodeling your basement. If you're feeling overwhelmed, that's a good sign that you should call a professional.
A basement contractor will make sure everything is safe and code-compliant.
2. Difficulty
It's true that you can do certain projects as a beginner DIY-er, such as painting walls. But basement remodeling requires a high level of skill and experience. Not to mention you'd have to research all the local building permits and codes.
Our advice? Save yourself a lot of stress by hiring a contractor like Basement Trust.
You can achieve beautiful results when you work with professionals. But make sure you check out their portfolio and work history before you sign any contract. That way, you'll be sure that they're able to take on a project of your scale.
Related:Questions to Ask a Basement Remodeler →
3. Time
Even if you do have the experience to remodel your own basement, that doesn't mean you have time to spare. Most people are only able to work on large projects during the weekend when they have time off from work.
Even then, it may be difficult to find time when you're running errands or taking care of the kids.
With how busy we often get, it's difficult to even find the motivation to tackle a large DIY project. Many people who try end up losing motivation mid-way through.
The good news is that a contractor will be able to get their team started on your basement right away. That way, they can complete the project as soon as possible.
In general, people will pay a certain percentage of money up front. That way, their contractor can buy supplies. Then, they'll pay in installments according to certain agreed-upon benchmarks of progress. Those payments encourage the contractor to finish the project on time and up to the client's standards.
Contractors are also great at time management. As such, they'll be able to determine how long it'll take to achieve your dream basement.
Related:How Long Does it Take to Finish a Basement? →
Request a Free Estimate From Basement Trust
Have we convinced you to hire a basement remodeling contractor? If so, we'd love to help you with your next project! As our name suggests, at Basement Trust all we do are basements. This means that you can expect quality results every time.
To request a free estimate, please call Basement Trust at (616) 608-9716. You may also fill out our online contact form and someone from our team will reach out to you soon.
This blog post has been updated.