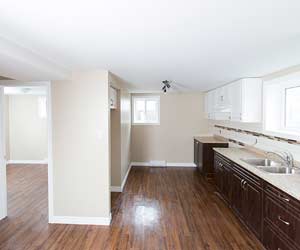 As a basement remodeling contractor in Grand Rapids, Michigan, we understand that for many multi-generational houses, an in-law suite gives an aging parent the privacy and support they need as they grow older. Likewise, working parents may benefit from having a retired caregiver at home to watch the kids.
At a minimum, a basement in-law suite will have a bedroom and basement bathroom. But it can also be its own self-contained apartment if you have the space and budget for it. Some people even add a separate entrance to give their loved one more privacy and independence.
Here are some of the main pros and cons of a basement in-law suite.
Pro: You Can Create Living Space for an Aging Parent
It's not always possible for older adults to stay in their homes. Yet, they may not be ready to live in a retirement home either.
While each family has their own unique set of circumstances, sometimes the most logical option is to have the aging parent move in with one of their adult children. In this way, a remodeled basement can become the perfect solution!
Our basement remodeling contractors would be more than happy to help you design and plan out the perfect space for an aging parent.
Related:5 Tips for Designing Your Finished Basement Like a Pro →
Pro: You May Be Able to Rent Out Your Suite
If you decide to rent out your basement suite, you'll need to follow local and state laws. You'll also be responsible for any repairs or maintenance to the space, as well as setting up rules for tenants.
The good news is that if you do all that, renting out your basement apartment can bring you extra money each month. Just make sure you do your research ahead of time so everything is legal and code-compliant.
Pro: Finished Basements are Versatile
A
or suite doesn't have to be just for in-laws. You can always repurpose a basement suite for guests, adult children, or even tenants. Likewise, you could transform an in-law suite into a , yoga studio, or whatever you wanted.
Many homeowners are attracted to the versatility of a finished basement. As a basement remodeling company, we're able to add living space and value to your home.
Con: You'll Get Volunteered to Host More Get-Togethers
Do you have a vacant bedroom and family that lives out of town? If so, others may volunteer you to host parties and get-togethers. This may not be a problem if you love hosting family events. But even the most enthusiastic host can tire of constant house guests.
A basement suite may not be a good idea if you value your privacy or worry that family members may take advantage of your generosity. But this shouldn't be a problem if you set up and reinforce healthy boundaries with your family.
Request a Free In-Home Consultation
Ready to get started on your next project? Our basement remodeling contractors in Grand Rapids, MI, would be more than happy to help you turn your design ideas into reality. To request a free in-home consultation for a basement in-law suite, call Basement Trust at (616) 608-9716 or fill out our online contact form.
This blog post has been updated.