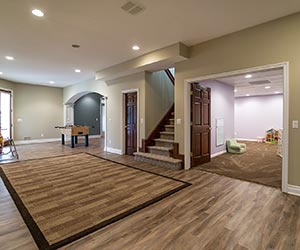 The bathroom is one of the most-used rooms in your house. Yet, homeowners often forget about their bathrooms when it's time to remodel.
Don't miss the opportunity to
to your basement! Doing so can improve your quality of life and increase the value of your home.
Even if you decide against it, it's important you explore all your options first. That way, you'll be able to remodel your basement with no regrets.
Check Local Zoning Ordinances
Be sure and check your local zoning ordinance before remodeling your basement. The last thing you want is for your project to stall because it violates the zoning ordinances.
As a basement remodeling contractor, we always ensure projects are safe and up to code.
Check With Your Homeowners Association
Do you belong to a homeowners association? If so, you'll need to ask them if you can add a basement bathroom. While an extra bathroom adds value to your home, the association may have rules about what you can and can't do.
Check with your association before you get your heart set on a new bathroom.
Think About How You'll Use Your Basement
How do you plan on using your subterranean room?
Do you plan on hosting epic game nights with your friends? Are you creating a guest bedroom for when your family visits? Or maybe you want a home gym so you can work out when it's most convenient for you?
Depending on your plans, a bathroom will or won't make sense. For example, a bathroom shower makes more sense if you're creating a guest bedroom or home gym.
Consider Your Floor Plan
Is there space in your basement for a bathroom? Also, remember that there are different types of bathrooms you can add to your home. For example, a half bath has a toilet and sink. A full bath has a toilet, sink, shower, and tub.
You should also think about how you want to walk through your basement. This is also called the design "flow" of the room. Check out our blog post on how to create "zones" in your basement.
Ask Your Contractor About Drainage
Most plumbing depends on gravity to move wastewater out of your home. That's why bathroom basements can be tricky.
Your basement is below the level of your main sewer line. As a result, most basement fixtures fall below the municipal sewer lines. This means that you'll have to find a way to push wastewater from the basement up to this line (against gravity).
The solution? A sewage ejector pump.
A sewage ejector pump works much like a sump pump. While a sump pump pushes out groundwater, a sewage ejector pump pushes out . . . you guessed it.
Sewage.
First, our contractors will need to dig and cut into the floor to create a sump basin. Your sewage ejector pump will then sit inside this basin. Once the basin fills up with wastewater, the floater will rise to the top and activate the pump. Once this happens, the sewage ejector pump will push the wastewater up to the level of your sewer line.
Sewage isn't the most glamorous topic. But you should always ask your contractor about drainage before starting your project. It'll save you a lot of grief in the long run and help you plan for the added expense of a sewage ejector pump.
Use Your Existing Plumbing and Electrical Wiring
Place your new bathroom close to your existing plumbing and electrical wiring. If possible, put your basement bathroom directly beneath the one upstairs. This will make it easier for your contractor to hook up your utilities. It'll also help you save money during your basement remodeling project.
Learn More: How Much Does it Cost to Remodel a Basement? →
Install a High-Power Ventilation Fan
With any bathroom, it's essential that you have a high-power ventilation van. This will help reduce the humidity in the air and draw out moisture. That way, you'll be able to reduce the risk of mold and mildew in your basement.
Also, consider waterproofing your basement. This may involve installing a sump pump or fixing any problems with your foundation to keep water out. You should always
before remodeling so you won't run the risk of water damage later.
Request a Free In-Home Consultation With Basement Trust
Basement Trust is a basement remodeling contractor in Grand Rapids, MI. In fact, all we do are basements!
To request a free in-home consultation for basement remodeling, call (616) 608-9716. You may also fill out our online contact form and someone from our team will reach out to you soon.
This blog post has been updated.