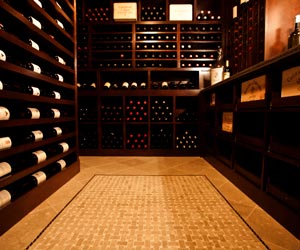 Our Grand Rapids wine cellar builders have experience creating functional, yet beautiful, storage spaces for wine collections.
Our basement remodeling contractors understand the effects of temperature, humidity, and direct sunlight on wine collections, which is why we are a trusted basement remodeling company.
What to consider when designing wine cellars:
Temperature & humidity controls
Sunlight exposure
Insulation
Airtight doors
Temperature fluctuations can cause wine to spoil, costing you hundreds or thousands of dollars. Our Grand Rapids wine cellar contractors will be able to install a heating and cooling system specially designed to keep your wine room at the perfect temperature and humidity. We also make sure that the room is insulated properly and that the doors to the basement wine cellar have an airtight seal to prevent energy loss.
Wine exists in a delicate balance. If the temperature in your wine cellar is allowed to fluctuate, the gas inside wine bottles expands and contracts, causing the corks to move.
Most wine experts agree that wine needs to be stored at around 55 degrees Fahrenheit and 55 to 75 percent humidity.
The Grand Rapids basement remodeling contractors at Basement Trust work hard to make sure you are completely satisfied with your new wine cellar. If you are interested in our basement remodeling services, give us a call at (616) 608-9716.