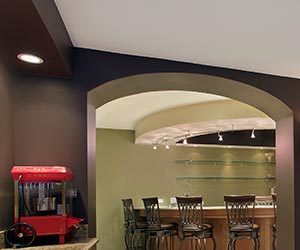 According to HomeAdvisor.com, the basement remodeling contractor near you.
is $18,833. However, keep in mind that this number does not necessarily predict how much you'll spend for your . Members of HomeAdvisor.com reported a range of costs from $4,500 to a high-end remodel for $40,000. Other factors will also influence cost, such as the need for electricity and plumbing, square footage, and materials. To get an accurate estimate, we recommend reaching out to a
Is your basement finished?
What does your basement look like now? If your basement consists of a concrete floor and exposed pipes and ductwork, you'll want to waterproof your basement and invest in basement finishing before remodeling. Waterproofing protects your basement from moisture and mold damage so you won't have to make expensive repairs to your remodeled basement later. Basement finishing is what turns an unlivable space into something livable.
When determining your budget for basement remodeling, you will have to include the costs of basement finishing and waterproofing. According to HomeAdvisor.com, the cost to seal a basement or foundation is $3,995. The cost to finish your basement will depend on many factors, which include square footage.
What is the square footage of your basement?
Big basements cost more to remodel than small basements. In order to provide an accurate estimate, the basement contractor will need to take precise measurements of your basement to determine the square footage. Depending on your basement remodeling plans, you can expect to pay between $10 and $35 per square foot.
What materials are you using?
The types of materials you use for your basement will partly determine cost. For example, hardwood flooring costs more than carpeting. For this reason, you should think carefully about the types of materials you want to use and how you plan on using the areas in your basement. For example, while hardwood flooring can be great for basement media rooms, it won't be durable enough for a home gym floor. Choosing materials that will work for you in the long run will help you save money and make better choices during basement remodeling.
Is plumbing or electrical work involved?
Many homeowners like the idea of
to increase the value of their home. However, any time plumbing or electrical work is involved, you can expect the to increase.
What is the return on investment for basement remodels?
A basement remodel can give you a 69% return on investment, according to the National Association of Realtors. Adding a basement bathroom or bedroom can also increase the value of your home, especially if you plan on selling in the near future. Also, keep in mind that adding a basement bathroom saves you the cost of building an addition to your home.
The Grand Rapids basement remodelers at Basement Trust are dedicated to helping you turn your into reality. If you are interested in our basement remodeling services, give us a call at (616) 588-4081.