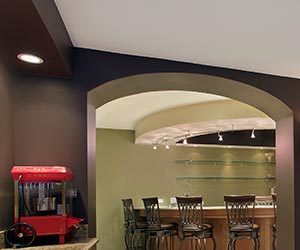 According to
, the average cost of basement remodeling is $18,833. But this number doesn't predict how much you'll spend on your basement remodel. Members of HomeAdvisor.com also reported a range of costs from $4,500 to $40,000.
Factors that influence cost include electrical work, plumbing, square footage, and materials.
To get an accurate estimate, please contact our basement remodelers.
In the meantime, ask yourself the following questions to learn what will affect your budget.
Is Your Basement Finished?
What does your basement look like now? Do you have a concrete floor, exposed pipes, and visible ductwork? If so, your basement is not finished and doesn't count as usable living space.
The more unfinished your basement, the more remodeling will cost.
Do You Need to Waterproof Your Basement?
You'll need to waterproof your basement before remodeling.
Waterproofing protects your basement from moisture and mold damage. That way, you won't have to pay for mold remediation and
later.
According to HomeAdvisor, the cost to seal a basement or foundation is $3,995. But the price you pay will depend on the square footage of your basement, among other factors.
What's the Square Footage of Your Basement?
The bigger your basement, the more it'll cost to remodel it. To provide an accurate quote, we'll need to take precise measurements. That way, we know the exact square footage of your basement.
Depending on your basement remodeling plans, you can expect to pay between $10 and $35 per square foot.
What Materials Are You Using?
The types of materials you use for your basement will partly determine the cost. For example, hardwood flooring costs more than carpeting. For this reason, budget for the types of materials you want and plan how you'll use the space.
While wood floors can be great for basement media rooms, they won't be durable enough for a gym. Choosing the right materials will help you save money in the long run.
Is Plumbing or Electrical Work Involved?
Many homeowners like the idea of adding a basement bathroom to increase the value of their home. But any time you need plumbing or electrical work, you can expect the cost of your remodel to increase.
What's the Return on Investment for Basement Remodels?
A basement remodel can give you a 69% return on investment, according to the National Association of Realtors. But it's important that you carefully choose a remodel that adds value, such as an extra bedroom or bathroom.
Also, keep in mind that adding a basement bathroom saves you the cost of building an addition to your home.
Request a Free In-Home Consultation
Basement Trust is a remodeling contractor in Grand Rapids, MI. As such, we'd be more than happy to help you with your next basement remodeling project. To request a free in-home consultation, please call Basement Trust at (616) 608-9716. We're ready to help you turn your design ideas into reality!
This blog post has been updated.