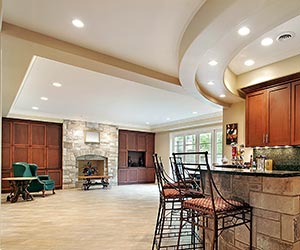 Most basements have open floor plans, which makes them perfect for what interior designers call "zoning." Zoning is the practice of creating more than one functional space per room. As a basement remodeling contractor in Grand Rapids, Michigan, we're always thinking of new ways to make the best use of your space.
For example, you may have a basement that functions as a home gym, media room, and bar. Our basement designers use zoning for multi-purpose rooms the whole family can enjoy!
Here's what you need to know about zoning and how it pertains to basement interior design.
Decide What Zones You Want
First, you'll need to decide what zones you want for your newly
. But this is easier said than done.
In order for zoning to be successful, you'll need to think about how you and your family will use the finished basement. For example, we wouldn't recommend putting the media center in the same space as your home office. Otherwise, you'll be so distracted that you won't be able to focus on your work.
You need to think about activities that will be harmonious in the same space. Otherwise, there could be a lot of competition and conflict when it's time to start using the finished basement.
Create Your Zones
There are many ways to create
. In this blog post, we'll explain five main tactics: color, lighting, conversation starters, furniture, and floor coverings.
Color

Color blocking is an easy way to distinguish the different zones in a room. For example, you may use white and wood tone colors for the kitchenette and darker tones for the media room. Each use of color helps to visually separate each distinct zone. Color also helps to infuse the homeowner's personality into the space so the basement feels like a natural extension of their home.

Lighting

Light fixtures are a great way to add personality and style to any finished basement. But they can also help separate different zones. For example, we may install a chandelier over the basement bar and dimmable recessed lighting over the home theater seating. Lighting can be either dramatic or comforting depending on what you choose for your home.

Conversation Starters

A conversation starter, also called a "statement piece," is a great way to attract the eye. By doing so, you're able to draw attention to the room's main zone and function. We've seen people use art, light fixtures, furniture, and other interior design pieces to customize their basements so they feel truly unique and authentic to the homeowner's style.

Furniture

A lot of furniture can be repurposed as room dividers, such as bookcases, couches, and chaise lounges. Also, keep in mind that furniture doesn't have to be used as a way of marking boundaries between different zones as much as creating smooth transitions between zones that exist in the same space.

Floor Coverings

Different types of basement flooring will help you create zones. They're also great for accommodating different uses. For example, you may want a more durable and shock-absorbing flooring for the space designated for your home gym. Whereas, you may want something more comfortable like carpet flooring for a children's playroom.
Request a Free Estimate With Us
We know that remodeling your basement is a huge investment in your home. That's why we want to make sure you have all the facts you need to make an informed decision. If you have any questions about basement interior design, please do not hesitate to give us a call. Our team would be more than happy to help!
As a basement design and remodeling services, call Basement Trust at (616) 608-9716. You may also fill out our online contact form to get started.
, we would be honored to transform your design ideas into reality. To request a free estimate for our
This blog post has been updated.