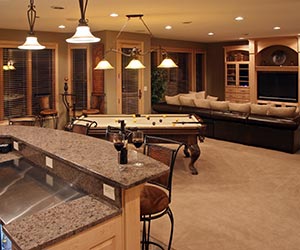 As a basement remodeling contractor, the word "rustic" brings to mind natural, rugged materials that have endured the test of time. Imagine distressed wooden bar tops, rugged leather stools, and light fixtures made of wrought iron. A place where you don't have to worry about using coasters or being careful because each mark adds to the bartop's unique character and history.
Here's our secret formula for creating a rustic basement bar you'll enjoy for years to come.
How to Create a Rustic Basement Bar
First, you need to start with the main ingredients of a basement bar. While you can tweak different styles, the main formula will almost always remain the same.
Here are the basement bar essentials:
Long bartop counter where people can chill
Bar stools or chairs
Light fixtures installed over the bar
Bar cabinets and/or wine racks
Now that you know the core elements, you can experiment with different materials, patterns, and designs. For extra help on this, be sure to check out our blog post that outlines our 5 tips for designing your finished basement like a pro.
Here are some rustic materials and design elements:
Natural wood
Distressed wood
Brick
Leather
A warm, earthy color palette
Potted plants
Now, you can mix and match the two lists until you come up with a custom basement bar.
Here's an example:
Wooden bartop counter
Wood and leather barstools
Rustic Basement Bar Ideas
Now that we've revealed our secret formula, here are some ideas for specific aesthetics to get you brainstorming ideas for your own basement. (Feel free to steal these!)
Cozy Fall Vibes
Do you want your bar to have a cozy, fall vibe? Imagine a warm palette of earthy colors accented by brass light fixtures and rich brown countertops that show off the natural wood grain. This basement bar can help you keep the fall vibes going year-round.
The Fisherman's Cabin
Do you feel an affinity for the outdoors? To capture the essence of a fisherman's cabin, maybe hang a few taxidermied fish and install sleek stone countertops that are cool to the touch. This basement bar would be the perfect spot to share a cold beer with friends and talk about the monster fish that got away.
Western Aesthetic
Americans have romanticized the "Wild West" for decades ever since Hollywood started making Western films back in the 1930s. Now our basement remodeling contractors can help you create your own saloon watering hole!
Feel free to have fun with this aesthetic. We're thinking of wooden barstools, a rugged wooden bar top, a cow print rug, and a few cowboy hats hanging behind the bar.
Farmhouse Style
Let's be clear. An actual farmhouse is very no-nonsense and utilitarian. Just to give you an idea, many of the older, rural homes in our state have what is called a "Michigan basement." (For those who don't know, a Michigan basement has a dirt floor that's been tamped down.)
The farmhouse style takes its inspiration from the aesthetic or idea of country living. But in doing so, it changes it into something new, replacing tamped-down dirt with . Sort of an upscale take on the farmhouse vibe. Keep in mind that you can also achieve the farmhouse style with other types of flooring, so feel free to ask our team for design ideas!
Related:How to Choose the Best Basement Flooring →
Country Chic
An offshoot of the farmhouse style is "country chic," also known as "shabby chic." This style blends the countryside aesthetic with a cutesy style.
If you're going for the country chic look, we recommend some of the lighter woods. For example, distressed white wood chairs help your bar area look more airy, spacious, and country chic. We also recommend potted plants to help the bar area look Pinterest-ready.
Rustic Winery
We have years of experience designing and building wine cellars. As such, we'd be more than happy to transform your basement into a rustic wine-tasting space to share with family and friends. Our basement remodeling contractors will make sure that your wine cellar has the proper temperature and humidity controls. We'll also ensure that your wine bottles are stored properly on their sides and out of direct sunlight.
Aren't sure where to start? Be sure to check out our blog post on the top 7 wine cellar mistakes to avoid.
Request a Free In-Home Consultation With Our Basement Remodelers
We hope the above examples have sparked your imagination! Our basement remodeling contractors in Grand Rapids, MI, would be more than happy to turn your into a reality. To request a free in-home consultation from Basement Trust, call (616) 608-9716.
This blog post has been updated.