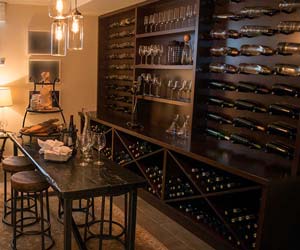 If you love wine, you've probably dreamt of having your own wine cellar at some point. But it's important that you avoid some of the most common mistakes so that you can enjoy your wine collection to the fullest. As a basement remodeling company in Grand Rapids, Michigan, we'd be more than happy to help!
Here are the top 7 wine cellar mistakes you should avoid.
1. Choosing the Wrong Location
Choosing the
entails more than just choosing an empty corner of your basement. At a minimum, you should store your wine in a cool, dark place behind an airtight door. Otherwise, your wine will spoil before you have the opportunity to sip your first glass.
2. Storing Wine That's Meant to be Consumed Right Away
About 98% of wine is meant to be consumed soon after purchase, according to
. This means that you need to consciously select wine that's intended for long-term storage. Colman recommends wines that have high acidity or tannins.
3. Not Controlling the Temperature
Wine is delicate. This means that you need to design a wine cellar that prevents fluctuations in temperature. Your wine cellar should stay between 50 and 60 degrees year-round.
To control the environment, you'll need to invest in the proper insulation and temperature controls for your remodeled basement.
The more the temperature fluctuates, the more the gases inside the bottles expand and contract. This pushes and pulls against the corks, breaking the seals.
A basement wine room needs to stay at a consistent temperature no matter what.
4. Not Controlling the Humidity
Your wine cellar should always stay between 55% and 75% humidity. That way, the corks absorb the humidity in the air and expand. This helps to create a tight seal for the wine bottle, keeping oxygen out.
5. Storing Wine in Direct Sunlight
Direct sunlight will degrade your wines, especially aromatic whites. The best place to store your wine collection is somewhere cool and dark. This is especially something to keep in mind if you have a walkout basement or any other basement that has windows.
6. Keeping Wine Bottles Upright
Corks will deteriorate over time if not kept moist. That's why you'll need to keep your bottles stored on their sides. Once a cork dries up, it falls apart inside the bottle. The good news is that a basement remodeling contractor can build the perfect storage for storing your wine bottles on their sides.
7. Not Organizing Your Collection
Your collection will have both "everyday" wines for life's simple moments, as well as wines for special occasions. To prevent any mishaps, we recommend organizing your collection so you don't accidentally drink a "special occasion" wine on a Wednesday.
What You Should Do Instead
A wine cellar is an investment in your home and an upgrade to your lifestyle. Whether you plan on hosting parties or spending quiet evenings at home, we can help you convert your basement into a wine cellar.
Here's how to create the perfect space for your wine collection:
At a minimum, store your wine in a cool, dark place behind an airtight door.
Be aware of what wines are meant for long-term storage versus immediate consumption.
Keep the temperature in your wine cellar between 50 and 60 degrees.
Keep the humidity in your wine cellar between 55% and 75%.
Store your wine bottles on their sides.
Organize your wine collection to separate the "everyday" wines from the "special occasion" wines.
Hire Basement Trust to design and build your wine cellar.
Request a Free Estimate
Basement Trust is a basement remodeling contractor in Grand Rapids, MI. As such, we're proud to help homeowners reclaim their basements as extra living space. To request a free estimate for your wine cellar, call (616) 608-9716.
This blog post has been updated.