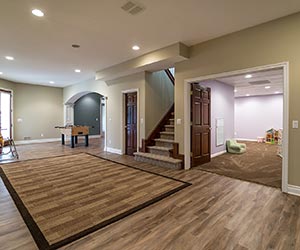 Basement Trust is a basement remodeling contractor in Grand Rapids, Michigan. As such, we understand everything that goes into remodeling your basement so it becomes an extension of your home's living space. But we also understand that many of our clients may be remodeling their homes for the first time and have questions for our team.
Since basement remodeling is an investment in your home, it's important that you go into a project with your eyes wide open.
This means understanding that you'll need to plan beyond the aesthetics of your new basement and think about how to make the space functional, practical, and inviting.
Let's start by asking you the following questions:
Does your basement have any problems with water and moisture?
How will you heat your basement in the winter?
Do you need to move any mechanicals?
What type of lighting do you want?
Are you interested in adding a bathroom?
How will you plan the acoustics so the room isn't too echo-y?
Do you need any building permits and inspections?
Are you interested in installing windows?
If reading these questions just stressed you out, please take a deep breath. While these questions shouldn't be overlooked during the planning phase, we don't expect you to have all the answers.
When you hire a basement contractor, they'll have the training and experience to navigate these challenges. They'll also help you plan your basement remodel so it's feasible and within your budget.
To give you a clearer picture of what you can expect, let's break down each of the above questions.
How Will You Heat Your Basement in the Winter?
Since basements are underground, they're naturally cool. While this may feel wonderful in the summer, you won't feel the same once we feel the chill of autumn and winter.
If you have central heating, we may recommend ceiling registers. Another alternative would be radiant in-floor heating. Since each project is different, you'll need to consult with one of our remodeling contractors to determine what heating option is best for your basement.
Do You Need to Move Any Mechanicals?
Your basement houses a lot of mechanicals, such as the water heater and furnace. While we can move mechanicals, it will add to the cost of your basement remodel. For this reason, it's important that you carefully design your basement so you can plan around mechanicals as much as possible.
For example, it's not uncommon for us to create a mechanical room. That way, appliances are hidden but still accessible to plumbers and HVAC technicians. Our crew will make sure that there's enough clearance between the walls and mechanicals to perform repairs and maintenance.
What Type of Lighting Do You Want?
Basements don't get a lot of natural sunlight and not everyone is lucky enough to have a walk-out basement. To fix this problem, many homeowners use recessed lighting so the entire basement has proper lighting.
At the same time, recessed lighting is flush with the ceiling, which means you won't cut into your available headspace like you would with a hanging chandelier fixture.
Are You Interested in Adding a Bathroom?
If you can afford it, you may want to add a bathroom to your basement. A is incredibly convenient, especially if you plan on adding another bedroom. Adding another bathroom will also add value to your house, which means you'll be able to ask for more money when it's time to sell.
How Will You Plan the Acoustics So the Room Isn't Too Echo-y?
An echo is produced when sound waves bounce off of smooth, hard surfaces. That's why it's important that you plan the acoustics of your basement so you can talk, watch TV, and listen to music without that annoying echo.
While carpet flooring absorbs sound waves, it also absorbs moisture which doesn't make it ideal for the basement. But that doesn't mean you can't use area rugs to create more soft surfaces. Area rugs can also make your new living space feel cozier and more inviting.
Related: How to Choose the Best Basement Flooring →
Another option would be to install soundproofing materials, which is something you can discuss with your basement remodeling contractor.
Do You Need Any Building Permits and Inspections?
It's important that your
is safe and code-compliant. As a basement remodeling company, you can always trust our team to get the proper building permits and set up any necessary inspections. Your city or county clerk will also be able to explain the process so you can have peace of mind that your basement is finished and up to code.
Are You Interested in Installing Windows?
Windows can bring in much-needed natural light to your basement. This is especially important if you plan on spending long periods of time in your basement. For example, you may be considering a basement home office if your couch or kitchen table isn't cutting it.
Under these circumstances, exposure to natural light helps your basement look more spacious and airy. Natural light has also been shown to help improve your mood and quality of sleep.
If you plan on adding a legal bedroom, you'll need to have an egress window so people can escape in the event of a fire or other emergency.
Request a Free Estimate With Us
Remodeling your basement can help you tap into the potential living space beneath your feet and add value to your home.
As a (616) 608-9716. You may also fill out our online contact form and someone from our team will reach out to you soon.
, we'd be more than happy to help you transition your basement into usable living space. To request a free estimate for your remodeling project, call Basement Trust at
This blog post has been updated.