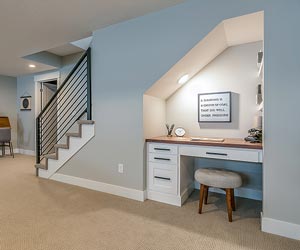 About 42% of Americans are working from home in 2020, according to
. This accounts for more than two-thirds of economic activity in the United States. Now, more than ever, there's a rising interest in basement home offices.
Here's how to design the perfect at-home work space.
Secure Your Basement
Does your basement smell musty? Are the walls damp? If so, you'll need to call a basement waterproofing contractor.
With all the technology and paperwork you need for your job, it's essential that your workspace be dry.
If you'll be spending about 40 hours a week in the basement, you should also have an egress window. An egress window is a window that is easily accessible and big enough for you to escape through in the event of an emergency.
Consider Soundproofing Your Office
Will you be sharing the basement with the rest of the family?
One of the main advantages of having a basement home office is that it's separate from the rest of the household. But this isn't always the case with a finished basement.
If your office is next door to the kids' playroom or home theater, invest in some soundproofing. For example, a basement remodeling contractor can install foam insulation for any shared walls.
Choose Your Furniture Wisely
Office furniture can take up a lot of space. That's why we recommend carefully choosing furniture that will help make your
functional but not cluttered. For example, it may be a good idea to install a murphy table that can fold into the wall. You may also install sliding partition walls to conceal wall-side desks when they're not in use.
The design possibilities are endless with a little creativity and resourcefulness.
Install Recessed Lighting
Most basements don't get a lot of natural light. That's why it's important that you take advantage of any natural light you have streaming through your windows. In addition to natural light, we recommend installing recessed lighting so you have even light to work under.
If you're concerned about limited space, stay away from floor lamps that take up valuable real estate.
Ensure Your Basement Can Support Your Technology
From video chats with clients to instant messages, it's vital that you have a reliable internet connection in your basement home office.
Before you plan your basement remodeling project, make sure that you take all of your technology into consideration. Ask yourself, "What all do I need to do my job well?" For example, you may need to call clients or fax important documents.
As a basement remodeling contractor, we'll be able to determine how to accommodate all of the technology you need for your home office. This includes making sure you have a constant power supply for all of your devices.
Request a Free Estimate
At Basement Trust, basements are all we do and it shows in our quality of work. As a basement remodeling contractor in Grand Rapids, MI, we would be more than happy to help turn your design ideas into reality. To request a free estimate for a basement home office, call (616) 608-9716.