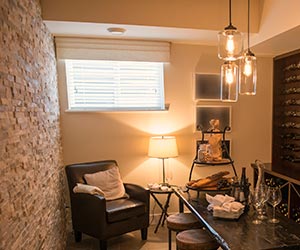 A custom wine cellar elevates the style and sophistication of your home. But converting your basement into a luxurious wine cellar is easier said than done. That's why it's important for you to hire one of our basement contractors to help you every step of the way.
Our basement remodeling contractors are ready to help you design and build your very own wine cellar!
Here's how to get started.
Determine the Room's Purpose
While the main feature of any
is the storage racks that will hold your wine collection, it's important to consider how the room will be used. For example, if you plan on hosting small intimate gatherings of family and friends, you may want to make sure you leave enough space in your basement for some elegant chairs or a counter for people to stand beside and make conversation.
On the other hand, if you want your
to be a feature of your formal dinner parties, you may want to consider space for an inviting table and chairs. A small refrigerator can also be a nice place to store food meant to be paired with your best wine.
When working with our wine cellar builders, be sure to discuss how you want the space to be used. This will help them gain a better sense of how the dimensions of the wine cellar should be sketched out.
Ensure Proper Wine Refrigeration
Wine cellars require proper refrigeration. This means that a wine cooling system will have to be installed inside your walls. If done improperly, the quality of your wine collection could suffer, costing you money and pride.
Make sure your wine storage is properly refrigerated by hiring a professional wine cellar construction company. Improper refrigeration could result in damage to your wine collection, walls, and ceiling.
Hire the Right Basement Remodeling Contractor
If you are interested in building a wine cellar, your first step is to hire an experienced basement remodeling contractor. When considering a potential contractor, you will want to make sure that they are licensed and insured. You'll also want to ask for recent references for projects similar to yours.
Learn More: Questions to Ask a Basement Remodeler >>
If a remodeling company goes under new management, they may not create the same beautiful results they did five years ago. Asking about projects similar to yours will also help you determine if they are qualified to build your custom wine cellar. For example, a building contractor may have plenty of experience in kitchen remodels and have little to no experience with custom wine cellar construction.
Even though there are tons of online resources for how to build your own wine cellar, we recommend going to the professionals to create a luxurious custom wine cellar you will be proud to show off.
Request a Free Estimate
Our basement remodeling contractors in Grand Rapids, MI, would be more than happy to help you convert your basement into a functional wine cellar. To request a free estimate, call Basement Trust at (616) 608-9716. We hope to hear from you soon!