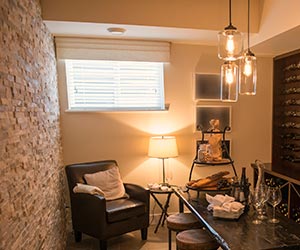 A custom wine cellar elevates the style and sophistication of your home. But converting your basement into a luxurious wine cellar is easier said than done. That's why it's important for you to hire a basement contractor to help you every step of the way.
As a basement contractor, we're ready to help you design and build your very own wine cellar!
Here's how to get started.
Determine the Room's Purpose
The main feature of any custom wine cellar is the storage racks that'll hold your collection. But it's important to think about how else you'll use your cellar.
For example, you may want to host small gatherings or parties in your wine cellar. In that case, you'd want to leave enough space for a bar and some furniture. That way, people can sit while they sip. You may also want a small fridge for any food you want to pair with your wine.
When working with our wine cellar builders, be sure to discuss how you plan to use the space. This will help them gain a better sense of how to sketch out the dimensions of your wine cellar.
Ensure Proper Wine Refrigeration
Wine cellars need proper refrigeration. This means that we'll need to install a wine cooling system inside your walls. If done wrong, the quality of your wine collection could suffer, costing you money and pride.
A reputable contractor will make sure your wine collection has the proper refrigeration. If they install the refrigeration wrong, it could damage your walls and ceiling. Not to mention your wine collection.
Collect Your Favorite Wines
If you're a wine connoisseur, then you already know this. But not all wines are meant to be stored long-term. In fact, most of the wines you can buy at the store are meant to be consumed right away.
This means that you'll need to be selective about the wines you choose for your collection. Taking the time to do your research will help you save money in the long run.
Build the Right Storage for Your Wine
You'll need to store your wine bottles on their sides to keep the corks moist. Otherwise, the corks will dry up and crumble into the bottles. This would also disturb the wine bottle's seal, contaminating the contents within.
A contractor will help you design and build the perfect
. That way, you'll be able to display your wine collection with pride.
Hire the Right Basement Remodeling Contractor
hire a basement remodeling contractor. A contractor will ensure that your new wine cellar is both safe and up to code.
in your basement is not a DIY job you can complete in a weekend. For professional results, you'll need to
When hiring, make sure that you choose someone with wine cellar experience. Ask about any recent projects they have done that are similar to yours. Also, make sure that your contractor is licensed and insured before you hire.
To see what we've done for clients in the past, please feel free to check out our online portfolio. You may also give us a call if you're interested in our references.
Request a Free Estimate
Basement Trust is a basement remodeling contractor in Grand Rapids, MI. As such, we'd be more than happy to help you create the remodeled basement of your dreams.
To request a free estimate, please call Basement Trust at (616) 608-9716. You may also fill out our online contact form and someone from our team will reach out to you soon.
This blog post has been updated.