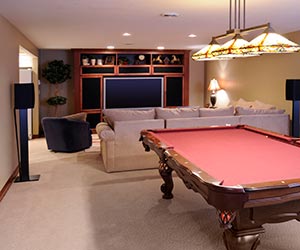 Since remodeling your basement is an investment in your home, you'll want to make sure you hire the right contractor for the job.
In this blog post, we will go over the questions you should always ask a basement remodeling contractor before making a hiring decision.
We recommend getting at least three bids for your basement remodeling job so you can be sure you are getting a fair price and hiring the best talent. If a contractor has difficulty answering any of these questions, you should treat this like a red flag and move on.
How long have you been remodeling basements?
A basement remodeling company doesn't last long if they have a reputation for shoddy work. This is why it's important to ask a contractor how long they have been remodeling basements in your town. A well-established contractor will have plenty of references and a reliable network of suppliers to get the job done.
Are you licensed?
In the state of Michigan, contractors must be licensed before they can remodel basements. If your contractor is unable to produce proof of their license, keep looking. You want to make sure whoever you hire is qualified for the job.
Are you insured?
Insurance protects workers in the event they are injured on the job. It's important you make sure the contractor and their workers are insured. Otherwise, you could be held liable for their medical expenses. A reputable contractor will have no problem showing proof of insurance.
Do you have any references I can contact?
You'll want to make sure that the references they give you are recent and relevant to basement remodeling projects. While a contractor may have glowing references for kitchen remodeling, they may not have as much experience in basement remodeling. A reference will be able to tell you if they are happy with the home remodel and whether they would recommend the contractor.
Would you itemize your bid?
Many homeowners don't know that asking for an itemized bid can help them save money and avoid dishonest contractors. While it's not uncommon for contractors to only offer a bottom-line price, they should be willing to itemize their bid if you ask. An itemized bid tells you how much each aspect of the remodel will cost. Having an itemized bid makes it easier to compare prices between contractors so you get the best deal. If a contractor isn't willing to itemize their bid, keep looking.
Can I meet the job foreman?
Most contractors aren't involved in the day-to- day operations that make a job site run smoothly. That responsibility falls to the job foreman. To get a feel for how job sites are run, you should ask to meet the job foreman at one of their job sites. If your contractor plans on running the job site himself, you'll want to ask if he'll be there every day.
The Grand Rapids basement remodelers at Basement Trust are dedicated to helping you get the most out of your finished basement. If you are interested in our basement remodeling services, be sure to give us a call at (616) 608-9716.