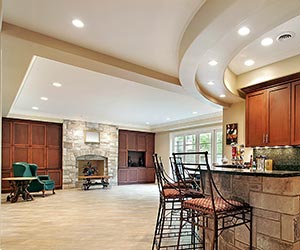 It's normal to feel excited when you start to finish your basement. But it's also normal to feel a bit impatient if things don't move as fast as you'd like.
Each
is different. For example, a client may have an unexpected plumbing issue or need to wait a few weeks for a special order to arrive.
That's why you can't always compare one basement finishing project with another. It's not a one-to-one comparison.
In general, the timeframe will depend on your contractor and the scope of your project.
Here are some of the main factors that will affect the timeframe of your project.
Factor #1: Amount of Work Involved
A contractor will hang drywall and install new flooring over the concrete subfloor. That way, your basement looks like a continuation of upstairs. They will also make sure to encase any pipes or ductwork so your basement looks finished.
How long it takes to finish your basement will depend on how much work it needs. For example,
will prevent water and mold damage later.
Also, please understand that finishing your basement is different from remodeling your basement.
To finish your basement is to make an unlivable space livable.
To remodel your basement, you'll usually need plumbing or electrical work. That's why remodeling takes longer and costs more.
Factor #2: Size of Project
A big basement will cost more to finish than a small basement. Once your remodeling plans are complete, the contractor will estimate the project's timeframe.
It's important that you ask the contractor what size jobs they have worked in the past. For example, an inexperienced contractor may not have enough workers to get it done on time.
Factor #3: The Basement Subfloor
Most basements have concrete floors, which make it easier to install flooring later. For example, it's easy to install carpet or hardwood flooring over a concrete slab. But keep in mind that a concrete subfloor is porous enough to let in moisture.
To protect your finished basement, pick flooring that resists water and mold damage.
Factor #4: Your Contractor
Always research a contractor's background before you hire them. This includes checking references, as well as checking their license and insurance situation.
It's normal for a contractor to ask for a down payment up front. But if a contractor asks for more than 50% of their payment up front, walk away.
A good rule of thumb is to schedule payments so that they correspond with the level of progress made. For example, you may give the first payment once they deliver the materials to your home.
Many horror stories start because the homeowner didn't recognize the red flags. When a dishonest contractor already has your money, there's no incentive to finish the job.
The best way to keep your project on schedule is to hire a basement remodeling contractor with excellent references.
Request a Free In-Home Consultation from Basement Trust
Basement Trust is a reputable basement remodeling contractor in Grand Rapids, MI. As such, we encourage you to check out our portfolio of projects we've done for other clients.
To request a free in-home consultation, please call Basement Trust at (616) 608-9716. You may also fill out our online contact form and someone from our team will reach out to you soon.
This blog post has been updated.
Related Blog Posts
Basement Remodeling: Expectations vs. Reality →
How to Live With an Ongoing Basement Remodel →