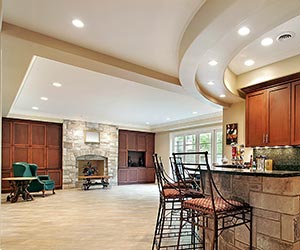 As a Grand Rapids basement finishing company, Basement Trust often gets asked how long homeowners have to wait before being able to enjoy their refinished basements. The answer is that it depends. The timeframe for a depends on the size of the project, the reliability of the contractor, and many other factors.
In this blog post, we will explain why some basement finishing projects take longer than others. To get a better sense of how long it'll take to basement finishing company near you.
, we recommend contacting a
Amount of Work Involved
A basement finishing contractor will hang drywall and install new flooring over the concrete subfloor so your basement looks like a continuation of upstairs. They will also make sure to encase any pipes or ductwork so your basement looks finished. How long it takes to finish your basement will depend on how much work is involved. For example, you may want to waterproof your basement before you start to prevent water and mold damage later.
It's important to understand that remodeling your basement. To finish your basement is to make an unlivable space livable. A basement remodel requires more work and costs more because it usually involves plumbing or electrical work.
is different from
Size of Project
A big basement will cost more to finish than a small basement. After the are finalized, the contractor will estimate how long the project will take to complete. It's important that you ask the contractor what size jobs they have worked in the past. For example, if the contractor has never done a project as big as yours, they may not have enough workers to get it done in a timely manner.
Basement Subfloor
Most basements have concrete floors, which make it easier to install flooring later. For example, homeowners can easily install carpet or hardwood flooring over a concrete slab. While concrete can be used as a subfloor, keep in mind that concrete is also porous enough to let in moisture. To protect your newly finished basement, you'll want to pick flooring materials that can resist water and mold damage.
Reputable Contractor
You should do your research before hiring a basement renovation contractor by asking for references and checking their licensing and insurance situation. If a contractor asks for more than 50% of their payment up front, walk away. While it's normal for a contractor to ask for a down payment up front, they should understand that it's unreasonable to expect the homeowner to pay a significant amount of money before any work is done.
We recommend scheduling payments so that they correspond with how much progress has been made. For example, the first payment can be given after the materials have been delivered. Many of the horror stories we've heard started because the homeowner didn't recognize the red flag of paying the contractor too much up front. When a dishonest contractor already has your money, there's no incentive to finish the job. The best way to keep your basement finishing project on schedule is to hire a reputable contractor with excellent references.
The Grand Rapids basement contractors at Basement Trust work hard to make sure you are completely satisfied with your . If you are interested in our basement finishing services, be sure to give us a call at (616) 588-4081.