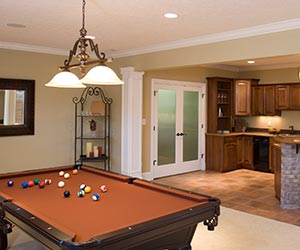 Does your basement feel too small or cramped to become the remodeled space of your dreams? If so, don't despair! There's plenty that we can do to turn your small basement into your family's favorite room in the house.
Here are our favorite tips for helping your small basement feel bigger and more spacious.
Call a Basement Remodeling Contractor
Don't try to remodel your basement on your own! You're much better off hiring a basement remodeling contractor like Basement Trust.
Our team can help you field any questions you may have, as well as make sure you have the proper permits to start your project. We'll make sure that your
is legal, code-compliant, and safe.
If you have any questions, please do not hesitate to reach out to our team at Basement Trust. As a
, we'd be more than happy to help!
Bring in More Light
Dark, shadowy corners don't make your basement an inviting space. That's why we recommend finding ways to bring in more light.
Obviously the best solution would be to take advantage of any windows. But this isn't always an option with a small basement. In this scenario, you have to make the best of what you already have.
If you have little to no natural light, we can help illuminate the space by installing a drop-ceiling with recessed lighting. This will help brighten your remodeled basement and chase away any creepy shadows.
Being able to see all of your basement under even lighting will also help you see just how much space you have to work with.
Use a Light Color Palette
Dark colors help a space feel smaller and cozier. But that may not be the best strategy when you're dealing with a small basement. Instead, we recommend that you use a light color palette to help your basement feel as spacious and airy as possible. Light colors also have the advantage of helping spaces seem brighter, which is perfect for a small basement.
While light colors reflect light, dark colors absorb it. If you are lucky enough to have windows in your basement, light colors will help you get maximum impact from any natural sunlight.
Declutter and Reorganize Your Basement
Stacks of cardboard boxes and seasonal items can clutter your basement, making it feel smaller than it actually is. The solution is to declutter as much as possible and find smart storage solutions that work for your home.
As a basement remodeling contractor, we can help you come up with built-in shelves and other options. That way, every item has a home. Decluttering and reorganizing your basement will help free up much-needed floor space so you can make the most of your small basement.
Request a Free Estimate
As a basement remodeling contractor in Grand Rapids, MI, we would be more than happy to help you turn your design ideas into a reality. But first you need to give us a call so we can help you get started.

To request a free estimate for your project, call Basement Trust at (616) 608-9716. We hope we hear from you soon!