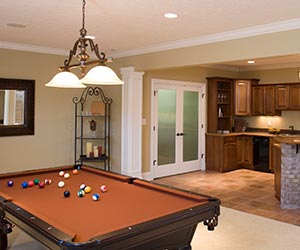 Have you ever experienced a sense of dread or unease while in your basement? While your basement (probably) isn't haunted, it may be unappealing due to bare light bulbs, concrete floors, and a lack of natural light.
The good news is that our basement remodeling contractors in Grand Rapids, MI, can help make your basement a more inviting place for family and friends.
Here's how to get started.
Reclaim Your Basement
Your first step is to reclaim your basement as usable living space. For many people, this may be difficult because they view the basement as being cold, dark, or damp. They may also feel claustrophobic because many basements only have one entrance and exit via the stairs.
For years, the horror genre has drawn on these instinctual fears by using basements to trap characters with serial killers and other monsters. Descending into the basement has also been used as a metaphor for descending into the underworld—a world that's hidden and unknown.
Today, we're challenging you to change these misconceptions. There's no reason why you can't transform your basement so it feels safe, warm, and cozy. But you need to first make the decision to take back and finish your basement so it becomes an area the whole family enjoys.
Install Recessed Lighting
Let's be honest. Bare light bulbs in your basement create more shadows than illumination. That's why our basement remodeling contractors may recommend recessed lighting.
Recessed light fixtures create even lighting throughout your basement so you never have to worry about shadows lurking in the corners or underneath the stairs. Instead, you'll have plenty of lighting, whether you're working from home or enjoying family game night.
We can also install a dimmer switch so you can control the brightness in your basement. It's these little touches that make your basement feel more like a natural extension of your upstairs living space.
Create Different Zones
No matter the size of your basement, we can create different zones to accommodate you and your family. We may do this by installing different types of basement flooring, walls, or partitions to section off spaces.
Since most basements have an open floor plan, creating different zones can help the space feel cozier and more inviting. Zones also create spaces for your family to spend time together even if they're doing different activities. For example, you may be walking on the treadmill while your children watch their favorite movie on TV. The basement is the ultimate multi-purpose room.
Related: What is "Zoning" in Basement Interior Design? →
Continue Your Interior Design From Upstairs
Does your home have a specific color scheme, style, or aesthetic? If so, we recommend continuing that interior design while planning your basement remodel. This will help your feel more like a natural continuation of the rest of your home.
If you have a small basement, we'd also like to point out that light colors can make your basement feel more spacious and airy. Dark colors on the other hand will make a large basement feel cozier.
Install Bigger Windows
Each basement is different and comes with its own set of unique opportunities. If you're able to install bigger windows, this is a great way to increase the amount of natural light in your finished basement. Also, keep in mind that you'll need egress windows for all basement bedrooms so that they're safe and up to code.
Natural light can help improve your mood and make your basement feel more spacious when you're done remodeling. As a basement remodeling company, we'd be more than happy to see if bigger windows are a possibility for your finished basement.
Request a Free Estimate With Basement Trust
(616) 608-9716. We hope we hear from you soon!
will go a long way toward making the space feel more inviting. Our , would be more than happy to help you with your next project. To request a free estimate with Basement Trust, call
This blog post has been updated.