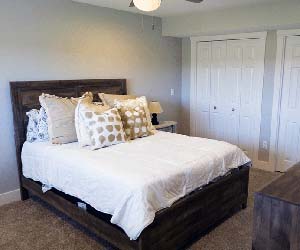 Think you can't remodel a small basement? Think again!
We've had the privilege of working with homeowners throughout Grand Rapids. During that time, we've seen plenty of basement sizes and layouts. Even the smallest basements hold potential for improving your quality of life.
Here are our tips for transforming your small basement into the family's favorite new room.
Consider High-End Materials
In general, the smaller the basement, the lower the cost to remodel. But it's important to remember that each basement remodel is different.
Don't have a lot of square footage to waterproof and remodel? Consider investing in high-end materials. This will help give your small basement a touch of luxury.
Aren't sure where to get started? Check out our blog post on how to stay on budget for basement remodeling.
Don't Forget Your Basement Windows
Don't forget your basement windows! After all, they're your only source of natural light. Taking advantage of natural light will help your room feel more airy and spacious.
Sometimes it's the small details that make all the difference in a remodeling project. For example, dark wood trim around your basement windows can elevate an entire room.
If you're planning on having a
, you'll need to make sure you have egress windows. Otherwise, your bedroom won't adhere to the fire code.
In the event of an emergency, people need to be able to get outside without using the stairs to get back on the main level.
Open Up Your Walkout Basement
Are you lucky enough to have a
? If so, consider expanding your sliders to let in more natural light. Natural light will help your living space feel more spacious. It'll also give you that much-needed dose of Vitamin D.
Our crew can determine if it's possible to create wall-to-wall sliding doors. The more sunshine you can get, the bigger your basement will feel.
Plan for Storage Space
Even after you finish your basement, you'll still want a place for storage. That way, you have space for your Christmas decorations and other seasonal items.
We'd be more than happy to help you find new, creative ways to store your belongings. For example, we could build storage to go under the stairs. That way, you'll be able to store your items without sacrificing precious square footage.
Consider Multi-Purpose Rooms
There's nothing written in stone that says a room can only serve one purpose. But we do recommend that those purposes be compatible. For example, you may want to combine your exercise room with your home theater. That way, you can watch TV while you exercise.
There's a lot we can do with "zoning" to help a room serve more than one purpose and still feel spacious. For example, we may use area rugs or arrange the furniture to create small "nooks." You can trust our crew to make the best use of your space.
Request a Free In-Home Consultation
Remodeling your basement can feel intimidating. But it doesn't have to be when you hire Basement Trust.
Basement Trust is a reputable basement remodeling contractor in Grand Rapids, MI. In fact, basements are all we do! Our team provides excellent customer service and we work hard to earn your business.
To request a free in-home consultation, please call Basement Trust at (616) 608-9716. You may also fill out our online contact form and someone from our team will reach out to you soon.
This blog post has been updated.