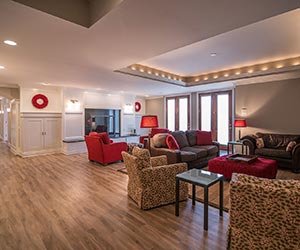 As a basement remodeling company, we've worked with a wide variety of clients who all had different reasons for starting their projects. But even someone who plans to stay in their home forever will be interested in what will add value to their most cherished investment.
Here are three basement remodeling ideas for your consideration.
1. An Extra Bathroom
If you plan on remodeling your basement, you should definitely add a bathroom so you don't have to go up and down the stairs all the time. Instead, you'll be able to enjoy the convenience of a basement bathroom.
Everyone thinks that basements are creepy. But not when we're done with them. When we go to create another bathroom, we'll be sure to have it match the interior design of your finished basement and the rest of your home. We'll also make sure that your basement bathroom is safe and code compliant.
That's the sort of quality work you can expect when you're working with an experienced remodeling contractor.
2. A Guest Bedroom
If you plan on
, it's of vital importance that you hire a reputable contractor. In order for a basement bedroom to be legal, you'll need to make sure you have emergency egress windows. That way, people in your basement can exit your home safely in the event of a fire.
As your local remodeling contractor, we'll make sure that your emergency egress windows are legal, safe, and code compliant.
3. Whatever You Want!
This probably isn't the answer you were expecting but we'll be honest with you. If you're planning on spending the next few decades in your home, you should be focusing on what will bring the most value to your life. Not what some hypothetical homebuyer wants.
For example, what's the point of adding another bedroom if no one comes to visit? You might enjoy a wine cellar more. (Just saying, it's not a bad idea…)
The point that we're trying to make is that you should think about remodeling in a way that adds value to your life—right now.
While basement remodeling is certainly an investment, it's also a labor of love. You wouldn't be if you weren't interested in the extra living space.
You want our advice?
Keep your mind open. Maybe the best solution for you and your family is to have an extra bedroom for when Grandma visits. Maybe you'd prefer a luxury movie theater or a place for your band to practice. You get the point.
To each their own.
We believe that each client's remodeling plans should reflect their lifestyle and unique personality. After all, remodeling is part of a journey toward claiming your house so it feels more like a home.
Enough said.
Request a Free Estimate
At Basement Trust, it's all in the name. All we do is basements! As a result, our crew is exceptional at creating basements that wow and amaze.
To request a free estimate for any of our basement remodeling services, don't hesitate to give us a call at (616) 608-9716. Our Grand Rapids remodelers would be more than happy to have the opportunity to work with you.