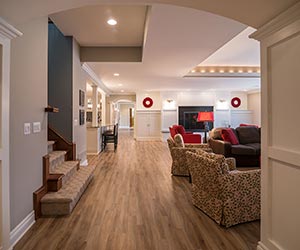 It's easy to get swept away in the idea of a finished basement. But with any remodeling project, it's important to also be grounded in reality. As a remodeling contractor, we've had the honor of bringing our clients' ideas to life. From luxurious home theaters to wine cellars, we've done it all!
Here's what you need to know before starting your
.
Expectation: You'll Stick to Your Original Timeline
Reality: You May Have Some Unexpected Delays
While it sounds cliché, you really have to expect the unexpected when it comes to remodeling. Or at least budget for it.
As a reputable
, we'll do everything in our power to get your project done in a timely manner. Our team will also keep you informed during every phase of the project. That way, if something unexpected comes up, we'll be able to adjust your plan accordingly.
---
Expectation: You and Your Partner Will Agree on Everything
Reality: You'll Have to Compromise
Different people have different tastes in interior design. You and your partner are no exception.
Before starting a remodeling project, make sure that you and your partner are on the same page. For example, it may be helpful to create a shared Pinterest board where you can combine your ideas. This also helps you visualize the type of aesthetic you want for your finished basement.
---
Expectation: You'll Never Go Over Budget
Reality: You'll Need to Set Aside Some Money for Unexpected Expenses
It's never a good idea to spend right to the edge of your budget. Always keep some money in reserve for unexpected costs.
It's not uncommon for issues to arise during a remodeling project that you could have never anticipated. Keeping some money in reserve will help you stay on budget and avoid unnecessary stress.
Also, keep in mind that it's easy to get lured into buying luxurious products. After all, who doesn't want the best for their home?
What we recommend is finding a balance between products that are of good quality yet are also a comfortable fit for your budget.
---
Expectation: You Can Handle Demolition Yourself
Reality: You'll Need a Professional Contractor for Demolition
There's nothing more cathartic that smashing through cabinets or walls with your trusty hammer. But unless you also want to smash through your plumbing or important electrical work, demolition is better handled by a professional.
Our crew is experienced in demolition and will take the proper safety precautions to make sure nothing essential gets damaged during the process. We also wear protective gear, such as goggles, masks, and gloves.
---
Request a Free Estimate
Basement Trust is a basement remodeling contractor in Grand Rapids, MI. As such, we have a long history of helping homeowners turn their ideas into beautiful finished basements.
To request a free estimate from Basement Trust, please don't hesitate to give us a call. As the name suggests, all we do is basements! To get started or learn more about the remodeling process, call (616) 608-9716. We hope we hear from you soon!