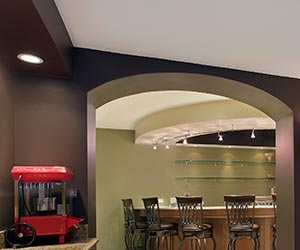 As a basement remodeling contractor, we understand how a remodeling project can temporarily disrupt your life. But you can trust our team to work efficiently so your basement remodel is done as soon as possible.
Also, keep in mind that a basement remodel is an investment in your home. As such, you'll be able to enjoy your newly finished basement for years to come.
Here are our tips for living with a remodeling project.
Communicate With Your Contractor
It's important to make sure you're on the same page as your contractor at the beginning of your
. That way, you're not dealing with frustrating miscommunications in the middle of the remodel.
One of the most important things to establish right away is acceptable working hours. For example, if you would like some peace from the remodeling chaos on a certain day or during certain hours, let the supervisor of the project know. Once the
is underway, you will not be able to guarantee protected dates and times as easily.
Establish a Construction Zone
Remodeling can be a messy business, stirring up sawdust, drywall, and insulation particles. This dust can settle in inconvenient places in your home, such as your air ducts.
We recommend you cover your air duct vents with plastic and (if possible) turn off any circulation systems in your home, such as heating and air conditioning units. We also suggest sectioning off livable areas in your home with plastic sheets and painter's tape. That way, the construction zone is clearly established.
Safeguard Your Belongings
During the basement remodeling process, you'll want to take some of your more valuable or fragile items out of the line of fire. For example, pictures hanging on your walls should be stored in a safe location. Other household items such as furniture and electronic devices should be covered with plastic or moved elsewhere.
Take Breaks
Trying to live 24/7 with an ongoing remodeling project can tax your mental strength. Try to make the best of your situation by taking the opportunity to get out of the house more often. Try out a new restaurant, take a trip, spend an evening with friends. Having a basement remodel in your home can be the perfect excuse to try something new.
Hire a Basement Remodeling Specialist
Your project will be more streamlined if you hire professionals who have years of experience in basement remodeling. For example, at Basement Trust, all we do is basements! This means that we're able to work more efficiently than someone who rarely remodels basements. As a basement remodeling company, we'll also be able to better prepare you for what you can expect during the remodeling process.
Always hire a basement remodeling contractor for the best results.
Request a Free In-Home Consultation From Basement Trust
Our (616) 608-9716. You may also fill out our online contact form.
, work hard to earn your business. At Basement Trust, all we do is basements. This means that you can feel peace of mind that you're hiring the right people for the job. To request a free in-home consultation from Basement Trust, call
This blog post has been updated.