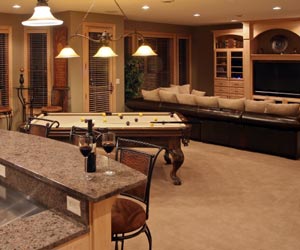 There's more than one way to perceive value when it comes to basement remodeling.
If you plan on selling soon, you'll want to remodel your house to increase its selling price. If you plan on staying put, you'll want to remodel to improve your quality of life.
Here's what you need to know about basement remodeling.
Add an Extra Bedroom
An extra bedroom can add value to your home, as long as it counts as legal living space. To make the bedroom code-compliant, plan on adding a closet and two forms of egress, such as a window.
An egress window will need to be low enough to the ground and large enough that a person can use it to escape. That way, people aren't trapped in the basement in the event of a fire or other emergency.
Don't have an emergency egress window in your basement? To create or widen a basement window, you'll have to cut into your home's foundation.
Add an Extra Bathroom
If you have space, consider adding an extra bathroom in the basement. This is a great idea if you have a bedroom basement because it saves people a trip up the stairs when nature calls.
Even if you don't have a basement bedroom, it's convenient to have a bathroom on each level of your home. Once you finish your basement, your family will spend more time downstairs.
You'll need to
to install the plumbing and electrical work. That way, your basement will be safe and code-compliant.
Increase Your Home's Selling Price
Do you plan on selling your house soon? According to the National Association of Realtors, basement remodeling gives a return on investment of 69%. It'll also help you stand out from the competition.
Many prospective homebuyers appreciate that a remodeled basement increases living space. A finished basement is also full of potential.
Use the Space You Already Have
Before building a new home addition, make the best use of the space you already have... like your basement! You can save up to 15% on construction costs if you choose basement remodeling over a new home addition.
You can also avoid zoning restrictions if you use the space you already have. There's a ton of untapped potential that lies beneath your feet!
Enjoy Extra Living Space
Nothing is more unwelcoming than concrete floors and bare bulb fixtures. Not to mention the shadows, cobwebs, and dust! As such, it makes perfect sense why you may not spend a lot of time in an unfinished basement.
A
can add a lot of value to your life because it increases the usable living space in your home.
Don't feel surprised if your family claims the basement as their new favorite room once we're done!
Here are some ideas for how to use your extra living space:
The design possibilities are endless when you decide to remodel your basement.
Request a Free Estimate
Basement Trust is an experienced request a free estimate, please call Basement Trust at (616) 608-9716.
. As such, we'd be more than happy to help you with your next basement remodeling project. To
This blog post has been updated.