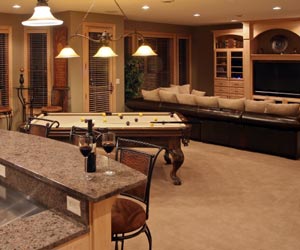 basement remodel adds value to your home so you can make an informed decision.
adds value to your home and life. In fact, our contractors tell us that it isn't uncommon to hear back from clients about how much they use their newly remodeled basements. In this blog post, we will be going over the different ways a
For more information about basement remodeling contractor at Basement Trust today!
, we recommend reaching out to our
Can Add an Extra Bedroom
Many homeowners like the idea of adding a basement bedroom because it increases the value of their home. In order to make the bedroom code-compliant, you'll need to make sure you plan for two forms of egress (emergency exits) and a closet.
saves you the expense of building an addition to your home. However, you will need to plan ahead to see if creating two forms of egress is feasible. Creating a window or widening an existing window in your basement involves cutting into the walls of your home's foundation.
Can Add an Extra Bathroom
If you are planning on selling your home, you may want to consider the benefits of basement contractor to make sure plumbing and electrical work is installed properly and according to code. Whether you want to accommodate your growing family or make your home more marketable, adding an extra bathroom increases the value of your home.
. Keep in mind that you will need to hire a
Increases the Value of Your Home
According to the basement remodeling gives you a return on investment of 69%. If you plan on selling your house in the near future, a basement remodel will help your home stand out from the competition. Many prospective homebuyers appreciate that a remodeled basement increases living space. A remodeled basement is full of potential and can be easily transformed into a room for watching movies, exercising, and more.
,
Uses Space You Already Have
Basement remodels are a great way to add to your current living space without paying the extra cost of a home addition. In fact, choosing to remodel your basement over building a home addition can save you 10% to 15% on construction costs. Since you are using the space you already have, you also don't have to worry about zoning restrictions.
You Can Enjoy Extra Living Space
to your home because it increases living space. People usually don't spend a lot of time in unfinished basements because of unwelcoming concrete floors and dim lighting. However, after you remodel your basement, you might be surprised by how much time you and your family spend in the new space.
A remodeled basement also gives you the opportunity to create customized areas for watching movies, relaxing with the family, working in a home office, or exercising. The design possibilities are endless when you decide to remodel your basement.
The Grand Rapids basement remodelers at Basement Trust are dedicated to making sure you are completely satisfied with your new remodeled basement. If you are interested in our basement remodeling services, give us a call at (616) 588-4081.