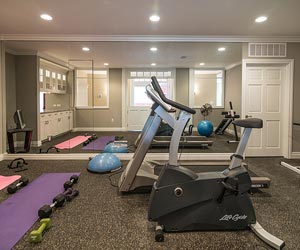 A home gym offers several advantages. The first is that you have a short commute from your main living space to your gym. The second is that you can customize your home gym to reflect your personal workout routine.
Our basement remodeling contractors would be more than happy to transform your vision into reality. Here are our tips for .
Install Special Flooring
Jumping rope, lifting weights, and other activities can wear out your floor. That's why you need to look into special flooring that will absorb the energy from working out. Likewise, high-impact exercise will crush carpet fibers over time. This will make your carpet flooring look old and worn.
The most common
are foam, rubber, turf, vinyl, and carpet.
But it's important that you consider what types of activities you'll be doing in your home gym.
Choose foam and rubber for high-impact activities like weight training. For example, non-skid rubber tiles provide the cushioning you need to exercise safely with strength training equipment. These interlocking tiles will also help keep you and your equipment from sliding on the floor as you exercise.
Carpet, vinyl, and turf are better for low-impact activities like yoga. These flooring options are also durable, so they'll look good for years to come.
Choosing the right type of flooring for your home gym is essential. That's why we recommend asking our basement contractors about your flooring options if you have any questions.
Finish the Rest of Your Basement
Exercising will improve your health and overall wellbeing in the long run. But it can be difficult to start the habit of exercising every day. That's why we recommend making your home gym as inviting as possible.
It's hard to feel motivated about exercising in a dimly lit basement. That's why we recommend finishing your basement. Walking into a finished basement will help put you in the right frame of mind so you feel motivated to exercise.
Our basement contractors may recommend installing a drop ceiling to conceal pipes and vents. We'll also make sure you have proper lighting installed. This will help your basement feel more welcoming so you actually want to spend time in your home gym.
Invest in the Right Exercise Equipment
What exercise routine do you currently have? What exercise routine would you like to have? These are the types of questions you'll need to ask yourself when choosing exercise equipment.
One of the benefits of having a home gym is that you get to personalize the space to fit your unique needs. But first, you'll need to measure the space you have available so you can determine where your exercise equipment will sit. This will also help you prioritize what equipment is most important to your routine. Even a small basement can become your personal home gym as long as you prioritize what's most important.
Request Your Free Estimate
Our basement remodeling contractors in Grand Rapids, MI, are ready to help transform your basement into the home gym you've always wanted. To request a free estimate for your home gym, call Basement Trust at (616) 608-9716.