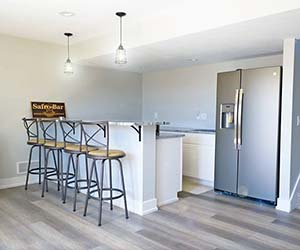 Basement remodeling is an investment in your home. Not only does it cost thousands of dollars, but it also takes time and patience. For this reason, it's important that you have a powerful "why" for your project.
What do we mean by this?
Simply put, your "why" will help motivate you throughout the remodeling process.
Each "why" is as unique as the person themselves. For example, you may wish to create a home office space so you can expand your business. Likewise, another person may want a home gym so they can focus on their health.
You get the point.
Once you discover your "why," you can choose remodeling ideas that align with your vision.
Here are some basement remodeling ideas to get you started.
Entertainment Room
Do you need more space to entertain guests? Would you like to spend more quality time with your family? If so, you may want to consider building an entertainment room in your basement.
A basement entertainment room is the perfect place to put your pool table and wide screen TV. It's also the perfect place to entertain your guests or have a family movie night.
Home Gym
If you're serious about fitness, why not create your own private gym in the basement?
It can be hard motivating yourself to wake up early to go to the gym. Likewise, who wants to go after work when all the machines are taken? A
could be the solution you've been looking for!
To learn more, check out our blog post on how to build a home gym in your basement.
Children's Playroom
Would you like your child to have more space to play and explore the world around them? Do you want the grandkids to have a space to play when they come visit? If so, we can help you create the perfect children's playroom.
Basements are more vulnerable to mold and mildew than other areas of your home. That's why it's important that you hire a basement remodeler so your kids have a safe area to play. For example, we'll insulate exposed cold-water pipes with foam sleeves. That will prevent condensation from dripping inside the walls or ceiling.
More and more homeowners are deciding to remodel their basements to include playrooms for children. A basement remodeler will be able to work with you to find a layout that works well for your home. A contractor may also be able to help you come up with basement storage ideas.
Extra Bedroom
If you want to
, you'll need to make sure you have an egress (exit) window. That way, you can escape in the event of a fire or other emergency.
To follow building code standards, you'll need to make sure the egress window is no more than 44 inches off the ground. A remodeler will also be able to add a basement bathroom so your guests have more privacy.
Ask About Our Basement Design Services
If you like more than one idea, we recommend taking advantage of our basement design services. There's no reason why you can't combine more than one idea to create the best basement for you and your family.
For example, you may combine the idea of a home gym with a children's playroom. That way, you can exercise and keep an eye on your kids at the same time.
Related: What is "Zoning" in Basement Interior Design? >>
Request a Free Estimate with Basement Trust
Basement Trust is a basement remodeling contractor in Grand Rapids, MI. As such, we'd be more than happy to transform your basement ideas into reality. To request a free estimate, call Basement Trust at (616) 608-9716.
This blog post has been updated.