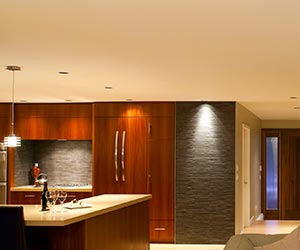 Are you thinking of finishing your basement?
Whether you decide on a basement bedroom or entertainment center, the design possibilities are limitless when you hire a basement remodeling contractor. The cost of basement remodel is worth adding value to your home and having a place to relax at the end of a long day.
In this blog post, we will go over ideas of what you can do with a finished basement.
For more information on how to remodel your basement, we recommend contacting a basement remodeling company near you.
Entertainment Room
A basement entertainment room is the perfect place to put your pool table and wide screen TV. Basement remodeling adds value to your home because it increases how much living space you have. A licensed basement remodeler can help you turn your basement remodeling ideas into reality. A remodeling contractor can help you design the perfect basement media room for the space you have available and your design preferences.
Home Gym
If you are serious about fitness, why not create your own private gym in the basement? A basement remodeler will be able to help you turn your unfinished basement into a personalized gym for you and the family. A contractor can also help you with designing layouts for your finished basement so you can make the best use of the space you have available for gym equipment.
Children's Playroom
Since basements are more vulnerable to mold and mildew than other areas of your home, it's important that you hire a basement remodeler so your kids have a safe area to play. For example, a basement remodeler will make sure exposed cold-water pipes are insulated with foam sleeves to prevent condensation from dripping inside the walls or ceiling.
More and more homeowners are deciding to remodel their basements to include playrooms for children. A basement remodeler will be able to work with you to find a layout that works well for your home. A contractor may also be able to help you come up with basement storage ideas.
Extra Bedroom
If you want to add a basement bedroom, you'll need to make sure you have an egress (exit) window that can be used in case of an emergency. To follow building code standards, you'll need to make sure the egress window is no more than 44 inches off the ground. A remodeler will also be able to add a basement bathroom so your guests have more privacy.
If you like more than one idea, we recommend consulting with a remodeler to determine the best layout. There's no reason why you can't combine multiple ideas to create the best basement for you and your family. For example, you may combine the idea of a home gym with a children's playroom so you can exercise and keep an eye on your kids at the same time.
The Grand Rapids basement remodelers at Basement Trust have experience transforming basements to fit our customers' visions. If you are interested in learning more about our basement remodeling services, be sure to give us a call at (616) 608-9716.