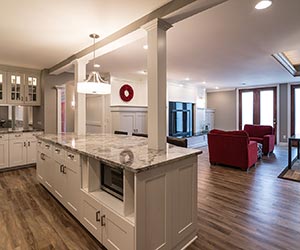 can greatly improve your quality of life. But it's important that you plan ahead for everything that needs to happen during your project. One of the benefits of hiring a basement remodeling contractor is that you can avoid some of the most common mistakes.
Here are 4 mistakes you should avoid during basement remodeling.
If you have any questions after reading this article, please feel free to contact us.
1. Underestimate How Much Work It'll Take
A basement remodel is a huge undertaking. That's why we recommend you hire a basement remodeling contractor before getting started. Our team would be more than happy to help you plan and carry out your remodel so you can enjoy the basement of your dreams!
One of the first things you'll need to do is see if you need any special permits. You'll also need to check the local building codes and regulations for your area. This will save you so many headaches in the future.
Don't underestimate your next remodeling project! Hire the experts at Basement Trust!
Learn more: How to prepare for a basement remodel >>
2. Not Planning Your Layout
This is probably one of the most fun (and frustrating) parts of planning your basement remodel. On one hand, you'll finally be able to put your ideas on paper. On the other hand, you'll have to consider where electrical and plumbing components are in your basement and plan around them. You may also have to scale down big plans for the actual room you have in your basement.
Here are some tips for planning an awesome basement:
Make sure basement bedrooms have egress windows.
Put areas for socialization where they'll get the most natural sunlight.
Reduce glare by putting your TV in a dark area.
Think of how you'll use the space and how it'll function.
3. Not Installing Sump Pumps
Do you live in an area that's prone to flooding? If so, we recommend that you
in the lowest point of your basement. You should also have a battery backup so your sump pump will continue to work if you have a power outage.
Here's how a sump pump works.
First, a contractor will install the sump pit at the lowest point of your basement. When water flows into this pit, it will trigger the sump pump to pump water out and away from your home. Pretty neat, huh?
4. Not Leaving Enough Space Around Mechanicals
Make sure you remember the mechanicals in your basement, such as your furnace. There should be at least 2 to 3 feet of clearance around each mechanical. That way, future repairmen will be able to make repairs and perform regular maintenance. Whether you plan on moving mechanicals or putting up walls around them, this is good advice to keep in mind.
At any rate, it may not be a good idea to put up a lot of walls in your basement. Most basements have little to no natural light. When you put up a lot of walls, it can make your space feel more shadowy and/or cramped. In general, it's a good idea to keep your basement as light, airy, and spacious as possible.
Our basement contractors consider every angle of your remodeling project so you don't have to!
Request Your Free Estimate Today!
Our basement remodeling contractors would love the opportunity to turn your ideas into reality! To request a free estimate for basement remodeling, call Basement Trust at (616) 608-9716. At Basement Trust, all we do are basements!