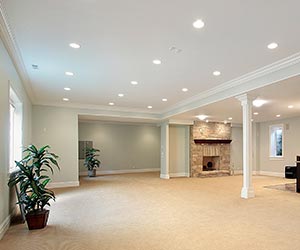 A basement remodel is a great way to add living space and value to your home. However, there's a lot that needs to be done before you can start remodeling your basement.
In this blog post, we will explain what you need to do to prepare for basement remodeling so your contractor can start work as soon as possible.
For more information, we recommend contacting a basement remodeling contractor near you.
Get Necessary Permits
Before finishing your basement, you'll want to make sure that you have the necessary permits for basement remodeling. If you are unsure what permits you'll need, a basement remodeler can handle this so your basement will be code compliant.
Arrange Waste Removal
Basement renovation produces a lot of waste, which is why we recommend renting a dumpster. A dumpster will be able to contain all the waste from your project and can be hauled off to the dump once your home remodel is complete.
Know Where to Install Outlets
Since most basements weren't designed as living spaces, you'll most likely want to install new outlets. A basement renovation contractor can help you determine where outlets can be placed that would be most convenient. You should decide where outlets are going to be placed before remodeling begins. For safety reasons, we recommend hiring an electrician to install new outlets.
Measure Space Needed for Drop Ceilings
Drop ceilings are perfect for concealing the pipes and ductwork in your basement while still providing access for maintenance and repairs. However, you'll need to make sure you'll have enough vertical space to accommodate drop ceilings. Today's drop ceilings come in a variety of materials and designs to suit your home's interior and your design preferences. When adding other elements to your basement, be sure to use the vertical space measurement that takes your new drop ceiling into account.
Waterproof Your Basement
According to HomeAdvisor.com, the average cost of a basement remodel is $18,829. After spending all that money, the last thing you want is for your newly remodeled basement to flood. Even if you have never had problems with basement flooding, now is the time to make sure your basement is fully protected against water damage.
For example, you'll want to make sure you fill any cracks in foundation walls to prevent leaks. We also recommend inspecting around your home the next time it rains to make sure water doesn't pool against the side of your home.
Clean Junk from Basement
Most people use their unfinished basements for storage, which means you probably have a lot of stuff you'll need to remove from your basement before remodeling can begin. If you have a lot of stuff you plan on throwing away, we recommend renting a truck or dumpster.
The Grand Rapids basement remodelers at Basement Trust work hard to earn your business so you are satisfied with your newly remodeled basement. If you are interested in our basement remodeling services, be sure to give us a call at (616) 608-9716.