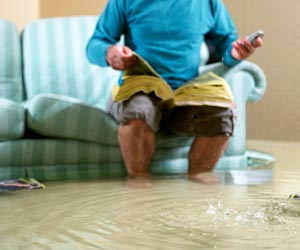 If you are interested in finishing or remodeling your basement, your first step should be basement waterproofing. Our basement waterproofing contractors will be able to protect your basement from moisture so you don't end up with water or mold damage.
According to HomeAdvisor.com, the average cost to seal a basement or foundation is $3,994. While this may seem like a lot of money, consider the fact that it costs even more to repair a water-damaged basement.
Angie's List reports that even a few inches of water on your basement floor can cause up to $10,000 worth of damage. Basement waterproofing keeps your basement dry.
Since cement is a porous material, water can seep through basement walls and floors. If you are unsure where water is entering your basement, we will be able to find the source of water infiltration. We are also able to repair foundation leaks and cracks. If you have had issues with basement flooding, please do not hesitate to call our Grand Rapids basement contractors.
The Grand Rapids basement waterproofing contractors at Basement Trust are dedicated to making sure you are able to enjoy a dry basement the next time it rains. If you are interested in our basement waterproofing services, give us a call at (616) 608-9716.