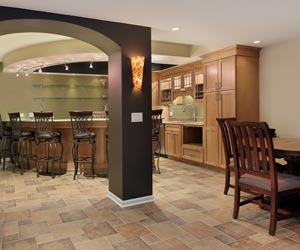 Did you know that approximately 60% of basements are wet, according to the American Society of Home Inspectors? If you ignore remodeling your basement, you'll need to invest in basement waterproofing beforehand.
, you could end up paying thousands of dollars in repairs the next time it rains. According to Angie's List, even a few inches of water on your basement floor can cost you up to $10,000 in repairs. If you plan on
In this blog post, our Grand Rapids basement remodelers at Basement Trust will explain what you can do to before remodeling, so you can avoid making a costly mistake.
Repair Gutters and Downspouts
Gutters and downspouts are responsible for directing the rain water that lands on your roof away from your home. However, when gutters don't extend far enough, water can pool around the foundation of your home. If gutters are clogged, it can cause water to spill over the sides and drip down the sides of your house. To keep your gutters in good shape, you'll want to clean them twice a year to remove leaves, pine needles, pollen, twigs, and other types of outdoor debris. Damaged gutters will need to be repaired or replaced as soon as possible.
Install Sump Pump
A sump pump is housed in the lowest part of your basement where water naturally pools. Like the name suggests, the sump pump is responsible for pumping water out and away from the home. If you live in an area prone to flooding, we recommend installing a sump pump—especially before starting basement remodeling. We also recommend getting a battery backup for your sump pump. That way, if the power goes out during a big rain storm, your sump pump will still work. Sump pumps prevent basement flooding.
Seal Basement or Foundation
A basement waterproofing contractor will be able to determine the best way to stop water infiltration at the source. Depending on how water is entering your basement, your contractor may recommend exterior foundation sealing or interior basement waterproofing. For example, a contractor can apply a special solution to the exterior of your cement foundation to keep water out. The average is $3,997 to .
Repair Foundation Leaks and Cracks
If you notice any cracks in your foundation, you'll want to contact a basement waterproofing company. While it's normal for small cracks and holes to form in your foundation, they can let water into your basement if not repaired right away. Remodeling your basement is an investment in your home. If you wish to remodel your basement, the first step should be to so water doesn't have a chance to get in.
The Grand Rapids basement waterproofing contractors at Basement Trust work hard so that your basement will remain dry the next time it rains. If you are interested in our basement waterproofing service, be sure to give us a call at (616) 588-4081.