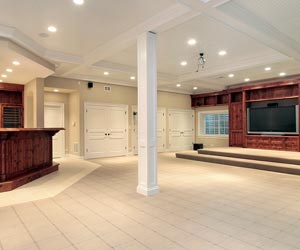 According to Angie's List, several inches of water on your basement floor can cause up to $10,000 in repairs. Thankfully, basement waterproofing can so you won't have to pay for water damage repairs. However, there are also other ways to stop water from seeping into your basement.
In this blog post, we will go over the ways you can prevent a Basement Trust recommends you contact a basement waterproofing company today.
. For more information,
Invest in Basement Waterproofing
Whether you need to seal the foundation or basement of your home, you can count on the expertise of a basement waterproofing contractor. They'll be able to determine where the water in your basement is coming from so they can stop leaks at their source. Waterproofing your basement can give you peace of mind so that you won't have to worry about basement flooding the next time it rains.
See Where Water Pools Outside
The next time it rains, you'll need to walk around outside to see where water pools against the foundation of your home. This can help you understand how water is getting into your basement. For example, if you see water spill over your gutters and run down the side of your house, you have a clog in your gutters. Inspecting the exterior of your home while it rains is a great way to learn Basement waterproofing contractors will also be able to find the source of basement leaks.
.
Inspect Gutters and Downspouts
Gutters are responsible for directing rainfall out and away from your home. However, gutters aren't able to work as they should when they are damaged, out of alignment, or clogged. If gutters and downspouts are damaged, you'll need to have them repaired or replaced as soon as possible to
.
You'll want to clean out your gutters at least twice a year in the late spring and early fall. That way, outdoor debris like leaves, pine needles, twigs, and pollen won't clog your gutters and cause them to overflow. Gutters that are weighed down are also more at risk for ripping off the sides of your home and causing damage to the exterior siding. When your gutters are filled with leaves, there is less room for water to travel away from your home.
Install a Sump Pump
Like the name suggests, a sump pump is responsible for pumping water out and away from your home. The sump pump is installed in the lowest part of your basement where flooding is likely to occur. We recommend having a battery backup sump pump so that your basement won't be unprotected in the event of a power outage. During severe weather, it's not uncommon for the power to go out.
Re-Grade Your Yard
Check the slope of your backyard. Water always flows downhill, which can cause basement flooding if your house is built at the bottom of a slope. While re-grading your yard can cost between $1,000 and $6,000, it's still less expensive than what it would cost to restore your basement after significant flooding. If your basement frequently floods, you'll want to invest in yard leveling so water flows away from your home.

The Grand Rapids basement waterproofing contractors at Basement Trust know the next time it rains. If you are interested in our basement waterproofing service, be sure to give us a call at (616) 588-4081.