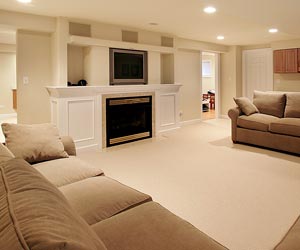 A mold and mildew. To keep you and your family safe from breathing in mold spores, you'll want to learn how moisture is able to seep into your basement so you can cut it off at the source.
is the perfect breeding ground for
In this blog post, we will go over the five things every homeowner should know about basement moisture so you can prevent water damage, mold, and mildew. For more information on how to prevent water damage in basements, Basement Trust recommends contacting our basement waterproofing contractors today.
Signs of a Damp Basement
Apart from the telltale musty smell, a damp basement will give other signs that moisture is finding its way into your home.
Musty air
Dampness in air
Mold and mildew
Stains on concrete walls and floors
Condensation (especially in the summer)
Puddles of water on the floor
Water trickling down walls
Causes of Basement Moisture
Since concrete is porous, it allows water to seep into the walls and floor of your basement. However, this usually isn't an issue unless you have water pooling around the foundation of your home. Until you figure out where the basement waterproofing company will be able to identify the source of the moisture so you can enjoy a dry basement.
is coming from, mold and mildew will continue to grow back. A
Water in your basement can come from:
Rain and groundwater
Yard sloping toward house
Defective rain gutters
Defective window wells
Condensation
How Moisture Gets into Basements
Water is able to pass through pores in the concrete walls and floor of your basement. These pores were created when water evaporated from the concrete mixture during installation, leaving behind microscopic tunnels in the walls and floor of your basement. When water pools against the foundation of your house, it is able to seep into these pores to enter your basement.
Why You Should Waterproof Your Basement
If you live in a flood plain or have had issues in the past with keeping your basement dry, we recommend
. According to Angie's List, even a few inches of water on your basement floor could cost about $10,000 to repair. The average , on the other hand, is $3,997.
When water is able to get into your basement, it can create the perfect conditions for mold and mildew. If you or a family member has allergies, you'll want to invest in basement waterproofing so mold and mildew isn't able to grow. Even if you don't have allergies, mold and mildew can cause a range of health issues, which include nasal congestion, eye irritation, and skin irritation.
How to Fix and Prevent Basement Moisture
As soon as you recognize the signs of basement moisture, you'll want to call a basement waterproofing contractor. The professionals will be able to find the source of basement moisture so you can prevent expensive water damage repairs. While there are plenty of DIY , you'll get the best results from hiring professionals.

The Grand Rapids basement waterproofing contractors at Basement Trust are dedicated to helping customers maintain dry basements. If you are interested in our basement waterproofing services, be sure to give us a call at (616) 588-4081.